DMAL Retiree Chapter Charter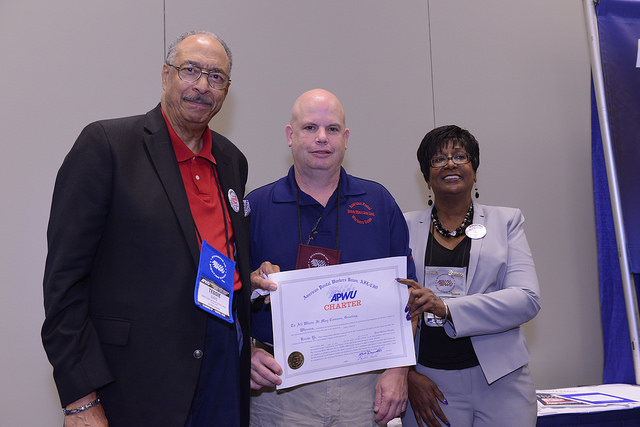 DMAL Retiree Chapter Charter is Presented!
At the 2014 APWU National Convention held in Chicago, IL, the Denver Metro Area Local Retiree Chapter was presented with its official Charter. DMAL Human Relations Director Phil Desautels is presented with the certificate by APWU Retiree Director Judy Beard and a fellow retiree.
Your Retiree Chapter Needs You
July 16, 2014
YOUR RETIREE CHAPTER NEEDS YOU!!
We are under attack. We may not have to worry about our jobs but what about Social Security, your pension and Medicare. What about your children and grandchildren's future?
We are in a unique situation as we are no longer under the Hatch Act. We, as retirees, have regained our voice and now is the time to use it. Help us get the word out please. At our next meeting on August 23, 2014 at 10:00 am, we will be getting organized for the next election. We will need walkers, phone bankers, writers etc.
We can no longer stand idly by and watch big money control our lives and our politics. Please come to our next meeting and help with our effort to bring democracy and equality back to the USA and save the middle class. In the meantime, I challenge you to spend 2 hours to help a candidate with our views. They will be grateful and you will have made a difference in our world.
Yours in Solidarity,
Marty Wisniewski, Legislative Director
DMAL Retiree Chapter
MW/jd
opeiu #30
afl-cio
Retiree Meeting Notices
November 5, 2014
Dear Chapter Member,
Please plan on attending our next meeting/party on January 24, 2015, at 11:00 AM. We will meet at the DMAL-APWU Union Hall located at 15677 East 17th Ave. in Aurora, CO. Your Budget Committee is working on financing a party as part of the meeting. The meeting agenda will be shortened so we can all socialize and celebrate the new APWU charter. Please look for a future mailing with all the details.J
Elections have consequences. In Colorado, we the people, elected a new Senator who fully backs a far right agenda. Anticipate the following changes in your lives based on the Republican Agenda and their new majority in the next Congress:
Chained CPI: President Obama supports this as does the new Congress.Currently, our meager 1.7% COLA on our annuity starting in January is based on the CPI-W.This adjustment is calculated by determining a family of four's inflationary costs.Typically, a family has much different purchasing habits than retirees do.This allows deflated items like electronics to pull down the actual inflation we incur in food and medicine.The chained CPI would have resulted in no COLA or less than 1% if in use today.

Tax increases: While Republicans claim that they are the low taxes party, nothing could be further from the truth.For example, Republicans (not one voted for Obama Care) snuck in a provision in the PPACA (Patient Protection and Affordable Care Act) increasing the line that determines when you can deduct your medical expenses on schedule A (itemized deductions) from 7.5% to 10%.This means you pay 2.5% more of your out of pocket medical bills BEFORE being able to itemize those expenses when you file a schedule A with your 1040 each year.Their agenda is to drastically reduce the corporate tax rate.Combine that with a nearly $4 Trillion dollar annual budget, someone will have to pick up the difference.

Social Security Privatization and Cuts: Republicans have wanted to turn over the $2.7 Trillion Social Security Trust Fund to Wallstreet for decades now.Along with the anticipated Chained CPI, this will affect your Social Security earnings.As we all know, when the stock market crashes (does this every eight years historically), any Social Security funds in the stock market will be lost and unavailable for future payments.The cap (anyone making over $118,000 in 2015, stops paying anything into the Social Security funds) will remain and possibly be lowered or eliminated reducing the solvency (under current law the fund is solvent until 2031-2044, according to the Social Security Administration) of the fund.Their idea is to cut benefits to Social Security recipients to improve the solvency of the fund.

Medicare vouchers: The Ryan Budget, which has passed the House of Representatives many times, changes Medicare as we know it.Instead of the current program, $8,000 annual vouchers would be provided to retirees and any medical costs above that would be borne by Medicare recipients in out of pocket expenses.Previously, this absurd budget was never brought to the floor by Senate Majority Leader Reid, but now we likely will have Senate Majority Leader McConnell.This is the man that publically and frequently stated from 2009-2012, that their top priority was to make Obama a one term President.He fully supports the Ryan budgets.

Health Care Cost Inflation:Despite all the horror stories about Obama Care, health care prices have increased the least in decades since the start of PPACA implementation.One of the top priorities of the new Congress will be to repeal the PPACA without any replacement plan.This would again start the cycle of sky rocketing health care costs.Tens of millions of Americans would lose their Health Insurance, Insurance Companies would again be able to cancel your policy at a whim, refuse those with previous conditions, and dump young people ages 18-26 off their parents' plans.For retirees, along with Medicare Vouchers, this would be a disaster.
The leadership of your Chapter will not go down without a fight. We have enough Senators to filibuster this austerity program and have President Obama with veto power; but it will require all of us, working together, to defeat these pro-oligarchy bills. None of us will get this done without you. We need every member active and ready to fight!
Together we shall overcome,
Scott D Morrow, President
DMAL Retiree Chapter
SDM/jd
opeiu #30
afl-cio
Are You Too Old To Fight?
ARE YOU TOO OLD TO FIGHT????
by Paul J. Mendrick, President DMAL Retiree Chapter
Workers have been taking it on the chin for the past 40 years. Wages are stagnant and profits are up. CEO pay is 367 times greater than worker pay. Whereas 40 years ago, it was only 35 times greater. With the inception of the Wal-Mart business model, we find our great nation in a race to the bottom. If that were not enough, add in the so called Trade Treaties – NAFTA – CAFTA and you will soon understand that workers in the USA have been beat on to the point that there isn't much more to give.
So the question becomes; who will be the next group of people to be attacked? The answer is simple: THE SENIORS – THE CURRENT AND FUTURE RETIREES of this country.
Who will fight for the retirees? Unions have their hands full just treading water – trying to keep the status quo. Are they equipped to put the retiree's needs on the same priority as the needs of their current workers? Retirees cannot take the chance that we will become irrelevant. If we chose to become lesser in our society – shame on us.
There are many effective senior organizations that work diligently on insuring that the rights and dignity of senior citizens are maintained. Some of those organizations are: AARP, NARFE and CARA. Our union – the APWU has an outstanding National Retiree Organization but like every National Organization, it can only be strong if there are local organizations supporting their efforts. For that reason, we have begun the process of forming our own chapter We have had preliminary meetings and have adopted a governing document. We recognize that together we are stronger and that when we have a common goal, we can make our unified voices heard.
We are in the building stages - there is a lot of work to be done, so it will take a while to get organized. We are committed to forming an active, vibrant organization that will fight to insure that seniors and retirees aren't the next group to be attacked.
The Denver Metro APWU Retiree's Chapter will have meetings, we will develop a working relationship with APWU Locals and other retiree organizations, to make our voice stronger and louder to insure that retirees are not the next to be attacked.
If you're looking for a good fight contact Paul J. Mendrick at pauljmendrick@msn.com. We will be looking forward to building a strong retiree's organization that includes advocacy, education and socialization.
PJM/jd
opeiu #30
afl-cio
Retirees Targeted for Austerity
Retirees Targeted for Austerity
By Scott Morrow, Retiree Chapter Chairperson
Since the Reagan Administration, workers have been targeted for austerity. Under that President's all-out war on workers, starting with his broken promises to PATCO, wages have been stagnant for the past 30 years. Unions have been decimated with trickledown or voodoo economics to the point that union membership fell from 24.1% of the U.S. work force in 1979 to 13.9% in 1998. This decline has continued to today with the Bureau of Labor. Statistics reporting only 11.3% of Americans enjoy a Union at work as of January 23rd.
Most of these Union jobs were in the public sector while in private industries we have dropped to less than seven percent of jobs being Union! You should all be aware that many states have passed legislation to ban public workers from being able to have a Union shop, thereby reducing how many workers can enjoy Union representation at work even more.
In addition to keeping workers in low paying dictatorial jobs, this trend reduces the Union's role in getting out the vote and lobbying for worker friendly legislation. For APWU workers, our Union has done an amazing job of keeping your pay and benefits above inflation so that you are one of the few making a livable wage; but what about when you retire? Will your annuity and/or social security keep up with inflation?
In 1983, several laws were passed raising taxes, raising the retirement age, taxing retirement income and most notoriously, the windfall elimination provision that adversely affects most of our Postal Retirees to this day.
Sadly, with the current CPI-W (Consumer Price Index for Urban Workers) formula, most retired workers' income rarely keeps up with inflation. CPI-W is used to calculate COLA's for both Social Security and Federal Retirement Systems. Here is a breakdown of how this is calculated;
Housing: 41.4%, Food and Beverage: 17.4%, Transport: 17.0%, Medical Care: 6.9%, Other: 6.9%, Apparel: 6.0%, Entertainment: 4.4%.
A typical breakdown of what retired workers spend their retirement checks on would have medical care at the top with food and "other" (like heating bills) closely behind. Many retired workers are not in the market for housing as they have paid off their home or may live in low-income housing units. As you can see, their COLA is based on the stuff they no longer spend for because they no longer work, and "shorts" the spending areas they rely on to survive. The CPI-W calculates retirees' COLAs on an upside down or backwards basis instead of an actual spending basis.
That is NOT all! There are numerous plans in Congress to reduce social security
payments, increase Medicare premiums and deductibles, raise the eligibility ages for retirement and social security, just to name a few. Those of you who are retired know this, while those of you getting close to retirement may not. These austerity measures affect all of us…our parents, uncles, aunts, grandparents, even our children.
The most disturbing issue right now on the table with Congress and the President is called "chained CPI". The chained CPI is usually 0.25 to 0.30 percentage points lower each year, on average, than the standard CPI measurements, and almost completely eliminates medical cost inflation.
Let's sum up here;
unions are decimated

workers haven't had a raise in over 30 years

the retirement age needs to be raised

retirees haven't kept up with inflation for the past 30 years

now we are going to reduce COLA's even further for retirees while we increase their medical costs?
Hope you can recognize the warning signs. Get active NOW!
SM/jd opeiu #30 afl-cio
Page Last Updated: Aug 21, 2014 (09:02:47)