COVID 19 - INFORMATION
APWU Advocates for Prioritization of Postal Workers in National COVID-19 Vaccination Plan
APWU Advocates for Prioritization of Postal Workers in National COVID-19 Vaccination Plan
January 22, 2021
On January 20, following the inauguration of Joe Biden as the 46th President of the United States, the APWU got to work pushing for the new administration to prioritize postal workers in its national COVID-19 vaccination policy. In a letter to the administration, President Dimondstein advocated for postal workers to be recognized as frontline workers in the national vaccine rollout.
With virtually no national plan in place, the COVID-19 vaccine rollout has proceeded very slowly and unevenly across the country with states/territories having to implement their own plans. Many essential workers are still waiting for their vaccines even as they report to work every day, including postal workers, who have continued to interact with the public and connect the people of the country during the pandemic.
In many states, including New York, postal workers have not been included in initial vaccine rollouts, even though the CDC recommended postal workers be considered in the "1-B" status along with other essential workers.
In his letter, President Dimondstein asked the administration to develop a national plan in-line with the CDC's recommendations.
"We are optimistic that your new administration will work to bring order to the COVID chaos including bringing a national plan to the vaccine roll-out. We strongly urge that as part of this plan the CDC recommendations in relation to postal workers is consistently and fully implemented throughout the country," President Dimondstein wrote. "The well-being of postal workers and postal customers depend on it."
In addition to the letter to the Biden administration, President Dimondstein also wrote to New York Governor Andrew Cuomo, and other governors urging him to move postal workers higher up in the vaccine rollout order in line with the CDC's recommendations.
The APWU is committed to working with the new administration on a comprehensive, national vaccination plan.
COVID-19 Vaccine Information
COVID-19 Vaccine Information
January 21, 2021
(This article first appeared in the January/February 2021 issue of the American Postal Worker magazine)
The COVID-19 pandemic has had a profound effect on all members of the APWU. Our families, our work, and essentially all aspects of our lives have been impacted. COVID-19 is a serious, life-threatening disease. One out of every 1,000 people in the United States died from COVID-19 during 2020. COVID-19 has infected more than 20 million people in the United States. This disease continues to pose a grave threat. Vaccinating is the most effective way to build protection against this disease. As frontline, essential workers, vaccines will be available to APWU members, on a voluntary basis, in the near future. When enough people receive the vaccine in the population, we will see the spread of the disease slow significantly. This will provide us all with the ability to resume activities with others in our communities when the spread has reduced.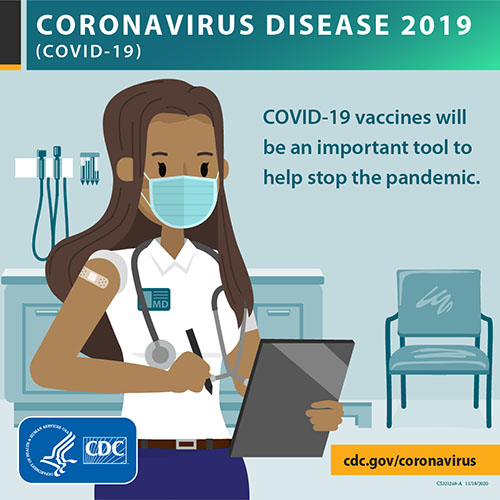 As this issue goes to press, there are currently two vaccines approved for use in the United States, the Pfizer and Moderna COVID-19 vaccines, and both are over 90% effective. That means they will prevent over 90% of people from developing symptomatic COVID-19. If you receive the vaccine and are in the small percentage of people who still contract coronavirus, either one of the vaccines will minimize the severity of your symptoms.
Rigorous oversight over the research, development, and clinical trials ensures that all vaccines are as safe as possible. The safety of these vaccines will continue to be monitored as they are administered throughout the country. Depending on the specific vaccine that you receive, a second shot 3-4 weeks after your first shot is needed to provide the most protection.
If you have questions or concerns about specific health issues that may affect your ability to receive a vaccine, talk to your doctor or a health care professional.
The APWU and the USPS are in agreement that the vaccine will not be a condition of employment and is therefore voluntary. We recognize that such decisions are personal choices and we encourage members to make them in consultation with their family medical professional.
National APWU Encourages Continued COVID-19 Safety Diligence
National APWU Encourages Continued COVID-19 Safety Diligence
October 16, 2020
Over recent weeks, the United States has experienced a rise in confirmed COVID-19 cases across the country. According to the Washington Post, since Saturday, October 10, more than 20 states have recorded record highs in their seven-day average of reported case counts. Nationally, the country's seven-day average of new cases rose above 50,000, for the first time since August.
"Postal Employees are testing positive every day and being quarantined on a regular basis," said Industrial Relations Director Vance Zimmerman. "Your safety and health are paramount. Please continue to practice good hygiene, social distancing and wearing face coverings."
APWU members should continue following all local and state ordinances mandating face coverings. The APWU encourages members to continue wearing face coverings even in areas without mandates, as face coverings are proven to reduce and slow the spread of coronavirus.
If you are experiencing issues getting supplies such as hand sanitizer, wipes, etc., please follow the protocol of reaching out to your local or state representatives.
Flu season is also starting up. If you choose to, now is the time to get your flu shot. The APWU Health Plan and all other FEHB plans fully cover the flu shot at no additional cost.
COVID-19 STAND UP TALK 51 – Delivery & Retail
COVID-19 STAND UP TALK 51 – Delivery & Retail: Customer Signature Service
Mandatory Stand-Up Talk
Oct. 14, 2020
Customer Signature Service
COVID-19 Response and Prevention
As cases of COVID-19 continue to be confirmed across the country, we are keeping the safety and well-being of our employees as our highest priority.
We are continuing to follow recommended guidance and strategies from Centers for Disease Control and Prevention (CDC) and local health departments and are implementing additional measures to help maintain social distancing.
One significant measure being implemented is a temporary modification of mail handling procedures for mail requiring customer signatures. We recognize the close proximity and additional handling that occurs when employees must ask for a customer signature. To reduce health risks, we are temporarily modifying how the MDD on-glass signature feature and the customer signing of Form 3811 (Domestic Return Receipt), Form 3849 (We ReDeliver for You), and any hard-copy receipt items are completed.
Until further notice, the following temporary process is to be used by all letter carriers, rural carriers, city carrier assistants and rural carrier assistants:
• Avoid ringing the doorbell when possible. Knock on the customer's door. Avoid areas that may be frequently touched when knocking.
• If the customer responds to the door knock/doorbell ringing, then perform the following steps in the customer's presence while wearing a face covering and maintaining 6 feet of distance:
o Request the customer's first initial and last name.
o Using the MDD, scan the mail piece barcode, select Delivered and answer the prompted questions. Enter the customer's first initial and last name when prompted.
o When prompted for the customer to sign the MDD's screen, employees should print their own initials (not a signature), route number and notate C19 in lieu of the customer's signature.
COVID-19 SUT 51 – DELIVERY and RETAIL:
Customer Signature Service – 10.14.2020
o For Return Receipts and other hard copy items, enter the customer's first initial and last name in the Signature box of the form.
o For Forms 3811 and 3849, employees should print their own initials (not a signature), route number and notate C19 in the "Received by" or "Printed Name" section, depending on the form. With Form 3849, scan the completed form following the normal process to finalize the delivery.
o For increased safety, politely ask the customer to step back a safe distance or close the screen door/door so you may leave the item in the mail receptacle or appropriate location by the customer door.
• If there is no response, follow the normal Notice Left process.
• If there are delivery points on your route where social distancing recommendations are difficult to follow, please advise your supervisor so alternative delivery methods can be explored.
It's also important to remember that the best defense against sickness is good personal hygiene. Practice good respiratory etiquette. Wash your hands regularly and cover your mouth when sneezing or coughing, using your elbow or a tissue. Then discard the tissue if you use one.
When unable to wash hands with soap and water, it is recommended that hand sanitizer be used to help reduce the spread of germs.
Thank you for your attention.
Extension of COVID-19 MOUs
Extension of COVID-19 MOUs
July 13, 2020
Over the recent weeks, the COVID-19 pandemic has raged across the country. Overall cases across the US have increased. The percentage of positives tests are increasing, and it was recently announced the overall COVID-19 caused death rate has increased.
In many areas, COVID-19 cases are spiking to all-time highs—higher than even the worst of the early days of the pandemic. Unfortunately, Postal Employees have not been exempted from the infections and death caused by the Coronavirus. With each passing day, a new high number is posted for employees who test positive for COVID-19.
The APWU believes that the safety and health of our employees is paramount, and we must use the tools we have in place to keep our sisters, brothers, and customers safe. Masks must be worn in jurisdictions where they are required, and we recommend masks be worn by all employees no matter their location. Social Distancing must be practiced, and good hygiene practices must be followed. All APWU members, officers, and stewards must insist management enforce these current policies and procedures.
In order to continue to protecting the safety and health of our members, President Mark Dimondstein and USPS VP of Labor Relations Doug Tulino agreed that all temporary MOUs related to the COVID-19 pandemic will be extended to September 25, 2020. This includes the "Liberal Leave Policy".
All the MOUs have the same expiration date. All MOUs can be found at: https://www.apwu.org/coronavirus - Click on "Resources & Documents" to be taken to a list of drop-down menus you can click on to find the various MOUs and documents.
COVID-19 and the DMAL
Covid-19 and the DMAL
by Rita Burns, Office Manager
The COVID 19 virus has changed the world in every aspect. We have had to make changes to ensure our safety and health; wearing masks, using hand sanitizer, using gloves, social distancing. These are all new to us in 2020.
The Denver Metro APWU has implemented some procedures to ensure the safety of our officers and staff, as well as our members. Below you will find the COVID-19 procedures:
1. If you need to see an officer, you must call 303-365-
0094 and make an appointment
2. When you arrive at the DMAL headquarters you must:
a. Wear a mask
(if you don't have one we will provide one to you)
b. Use Hand Sanitizer when you enter the office
(provided by the DMAL)
c. Wear gloves
(if you don't have gloves we will provide them)
3. You must go directly to the officer you came to see
and no lingering in the lobby/office before or after
your appointment.
I want to thank all of you who are practicing social distancing and being considerate of others. We can only overcome this when we all do our part.
COVID-19 and EAP Services
COVID-19 and EAP Services
May 29, 2020
(This article first appeared in the May/June 2020 issue of the American Postal Worker magazine)
During this crisis, stress and fear are becoming all too normal because none of us are sure whether we were exposed, if we are a carrier, or if we possibly will have a mild or serious case that places us at death's door. We are concerned about spreading this virus to our families, friends and other human beings. The fact that getting tested is seriously difficult and vaccines are not available has placed all of us in a vulnerable place.
As essential workers, we continue to report to work and move the mail every day. If you do not have protective equipment, leave benefits, quarantine rights, contact tracing, or facility deep cleaning where there is a test positive case, contact your local union president immediately. Be a union activist.
Employee Assistance Program
For those that need immediate support to relieve stress, the Employee Assistance Program (EAP) has support specifically dealing with COVID-19, exposure and coping with death. EAP has 24/7 services:
Counseling over the phone
Online video counseling
Web-based resources
'In the moment' support
Coaching
Consultation
Find out more by going to www.EAP4YOU.com or calling 1-800-327-4968, TTY 877-482-7341. I cannot stress enough that no one should feel negative in any way for reaching out to their services. This crisis is stressful for every human around the globe, doubly so for all essential workers. Anger, frustration, isolation and family violence, are increasing and everyone deserves support. Don't fight it alone.
Right to Vote by Mail
This pandemic has also made one thing abundantly clear: this country needs nationwide voting by mail and no excuse absentee voting enacted now. Our democracy is at stake as we head into what some are saying the most important federal election in the last 100 years.
We help to deliver the right to vote in America. COVID-19 has adversely affected our right to vote safely. The White House has not only attacked the USPS by failing to provide stimulus money, but has also attacked the right to Vote by Mail. The administration's goal to privatize us demonstrates the importance of postal workers. We must stand up and fight back by helping to get the right to vote by mail during this pandemic.
We must help to push the right to vote by mail in states and in our federal election in November 2020. Vote by mail provides easy, safe, hack-proof voting. We need to help get people registered and to apply for an absentee ballot.
Postal workers are essential workers who help protect our country from bio-terrorist activities, bio-medical pandemics, and process and deliver election materials and absentee ballots for everyone, including our veterans overseas.
Can we count on you to be an APWU Activist? Our country needs us and we need them. Together we can save the Postal Service, and provide real democracy. Contact your local/state president to get involved now.
Pandemic Crisis Brings Double Trouble
Pandemic Crisis Brings Double Trouble
May 29, 2020
(This article first appeared in the May/June 2020 issue of the American Postal Worker magazine)
This terrible COVID pandemic again reminds us that it is the working people who make the world go round. Essential front-line workers – postal workers, health care workers, transit workers, truck drivers, firefighters, grocery workers and many others – have stepped up under dangerous and challenging conditions to heal, feed, connect and serve the people.
Witnessing the deep commitment and fortitude of postal workers carrying out the vital mission of binding the country together makes me even prouder to be your national president.
Co-workers, family members and friends have been sickened or have perished from this pandemic made worse by a government failure of readiness, including the lack of widespread and rapid testing.
As a union family, we deeply mourn these losses.
Our union leadership's main priority has been the health and safety of our members. The APWU has left no stone unturned under Industrial Relations Director Vance Zimmerman's outstanding leadership. We secured a number of pro-active policies and agreements with management. This includes a strong liberal leave policy enabling workers to best protect their health and safety. (Click here for details on the union's response.)
Dangerous Economic Troubles
While we work to secure the safety of our members, postal and all workers are now forced to confront a massive economic crisis as well: The pandemic's economic impact is now threatening the very existence of the public Postal Service, our jobs, health benefits, retirement and the right of the people to universal postal services.
With no taxpayer funding, the Postal Service runs solely on postage revenue. But the pandemic is causing a huge reduction in mail volume and a projected 50 percent drop in revenue. Without Congressional relief, the Postal Service could run out of money by summer and cease operations. Shamefully, this needed relief has not been forthcoming.
Our friend and former CWA President Larry Cohen says "watch the feet" – look at what people do, not what they say.
Without Congressional relief, the Postal Service could run out of money by summer and cease operations. There have now been two massive "stimulus packages" totaling almost $3 trillion, including over $1 trillion for private business. With bi-partisan support from the Republican-controlled Postal Board of Governors, the House requested $25 billion for Postal COVID relief and the Senate $13 billion. Yet the Trump White House refused to sign a stimulus package with postal relief in it!
Our Congressional supporters failed to "flip the script" and declare that there would be no stimulus package unless the Postal Service was included. Watch the feet!
With everything postal workers are facing in this crisis, President Trump had the nerve to call the Postal Service "a joke" and demanded package prices be increased five times the present rates as a condition for any COVID relief. The President did not demand Boeing raise the price of airplanes or hotels raise room rates as a condition for bailouts! Excessive package rates would price the USPS out of the package market, literally causing its demise. After getting heat, President Trump then tweeted how much he "loves" postal workers. Watch the feet!
Backed by plenty of Wall Street and corporate money, this administration has a clear agenda – sell off the public Postal Service to private corporations. They are following the plan laid out in their June 2018 White House Office of Management and Budget report.
It is outrageous that this administration seeks to destroy the people's Postal Service and 600,000 good union jobs, using this pandemic crisis to accomplish their sinister aims.
The Postal Service always is the highest rated agency by the people. Given the heroic and essential role of the postal workers in this pandemic, it stands higher than ever at 91 percent! People power is on our side.
You may have heard the saying, "If we're not outraged, we're not paying attention!" Let's call Congress, sign petitions and spread the word far and wide. We can only win if we are mobilized and together move our feet! Our future depends on it!
Express 20-03
COVID-19 Update
By Bobby Rollins, President
I would like to share some information with you that has been discussed in my daily telecoms with the Colorado/Wyoming Managers regarding the Coronavirus. These telecoms occur daily at 11:00 AM, and all Presidents have been invited to attend and address COVID-19 issues in their areas of representation.
I was pleased to hear today that there have been no new cases reported amongst Colorado Postal Workers in the past two days. I pray I wake up tomorrow and get the same report. I sincerely thank each and every one of you who are doing the utmost to protect yourselves and others around you. I also thank those of you who have voiced your concerns about lack of face masks/gloves/disinfectant/socially inadequate work areas. These concerns were heard and addressed with the managers and abated as quickly as possible.
In my efforts to provide every employee with a safe work environment, I agreed to allow Plant Manager Mary Alt to contract out an additional 50 custodians to ensure that all of our facilities are cleaned and disinfected at a greater frequency. These additional custodians will be divided up amongst all three tours at the GMF and some will be deployed to some of our Associate Offices and Stations. There were issues with the Capitol Hill and Mile High Stations not getting cleaned, so additional Custodians have been deployed to those facilities.
I received a complaint about the Express Mail Room being congested and difficult to exercise the six-foot rule, and Mary Alt and Brandon Cruz are working with the supervisors and clerks to come up with the best solution.
We had an issue with our TTO Drivers not being comfortable going up to the block house to get their timecards and other essential items needed to start their day because of the congestion it created in that office. Donta Green and Mary Alt worked together and will have a resolution in place soon, which Donta discusses in his article.
I recently received reports that supervisors on the workroom floor didn't have access to the new codes for the "Families First Coronavirus Response Act". I was told today by Human Relations Manager Sandra Creek that the codes are now available, and supervisors would now have access and have been instructed to notify her if they have any problems or questions. I encourage everyone to read through the FFCRA which we have put up on the DMAL website under the COVID-19 tab. This is valuable information needed to ensure that your time off is coded properly based on the category you fall in and it also explains documentation requirements. I urge everyone to read and educate themselves on this so you can help ensure your leave is input properly. If you have any questions, please reach out to your Union Representative.
The Denver Metro APWU Website now has a COVID-19 link on our homepage which has all the MOU's posted for everyone to review.
I want to thank District Manager Jason Mc Mahill, Human Relations Manager Sandra Creek, Plant Manager Mary Alt, and Denver Postmaster Lora Mc Lucas for addressing and taking the COVID-19 issues reported by our members seriously and abating the issues as quickly as possible.
APWU Postal Employees
Show Strength and Courage
During the COVID-19 Crisis!
By Laviena Vargas, Director of Clerk Craft
As millions of people around the world are facing mounting uncertainty due to the Coronavirus, there is one steady reminder that our country is fighting to continue to go on each and every day. That constant reminder is that the United States Postal Service continues to deliver mail every day!
As Postal employees, we are deemed an essential workforce. Everyday thousands of Postal employees show up to work to ensure that the American public gets the very important mail delivered to their homes. Everyday thousands of packages and parcels of food, safety supplies and medications are sorted by APWU Clerks. Everyday hundreds of thousands of letters are being sorted, processed and worked by the dedicated clerks of the US Postal Service. Everyday window clerks continue to serve the people of our community.
On March 26, 2020, Colorado received a Public Health Order Statewide for a stay-at-home order. As this became effective for every resident, the mail and the delivery of all mail became that much more important and vital to the people of Colorado.
APWU Postal employees have been thrust into being soldiers as we continue to work through this pandemic! Postal employees are literally putting their safety and health on the line the minute they clock in for work.
I would like to remind every employee to please follow all the safety guidelines issued during this pandemic to ensure the safety of yourself and your loved ones. Please wash your hands and keep the 6ft distance when at work, whether you are in a huge processing facility or in a small station. The actions you take for your safety not only protect you as an employee but helps to protect your loved ones you go home to after every shift!
I cannot say thank you enough to every individual who continues to report to work and continues to get the mail out everyday but I will say it anyway; Thank you to each APWU USPS Employee for your hard work and dedication during this devastating time! Please take care of one another, stay safe and know you are appreciated!
MVS Report
By Donta Green, Director of Motor Vehicle Craft
I hope everybody is staying safe and healthy. The GMF and VMF are set up with supplies for protecting yourselves from getting COVID-19. If you ask management for any gloves, hand sanitizer, & masks and they do not have it, fill out a 1767 and get it to your tour Steward so they can file the grievance. For MVS I addressed the time clock issues by the crow's nest. They are going to be moving the dispatcher, scanner, keys, and radios down under the crow's nest as soon as that office is clean and ready. This will not be a permanent move, so let's remember that we still have to keep social distance and management will be the one you will have to contact to get the safety PPE, not dispatch. Thank you all for your hard work and for following safety precautions.
So Much Going On Right Now
By Charles Quintana, Assistant Director of Clerk Craft
Hope everyone stays safe and keep your families and friends safe. The Coronavirus has really disrupted and changed a lot for many of us. Events like graduations, weddings, and other life events have been canceled or postponed. It is so sad to see.
We have had so many questions on the details of the 80 hours paid leave since the Coronavirus. The paid leave outlined in the Families First Coronavirus Recovery Act is not automatic to regulars or PSEs. You would have to have one of the underlying conditions numerated 1 – 6 in the FFCRA.
If you qualify in numbers 1 – 6 for the 80 hours of paid leave we recommend documenting your absence if you are in a position to do so. Documents from health care providers, government entities, and school closures are examples.
Changes of Schedule and Leave usage are to be given liberally up till May 17, 2020. So if you use your own leave there should be no need for documentation. Please call us with any questions and we will get to you as soon as we possibly can. Most importantly, please take care of yourself and others.
On March 23, 2020 a stimulus bill called, Take Responsibility for Workers Act was introduced and passed by congress. Unfortunately, it did not include any financial support for the USPS. The provisions for the USPS were:
-$25 billion to USPS for revenue forgone during Coronavirus.
-Repeal of the prefunding of health benefits.
-Forgiveness of $11 billion in debt.
-Repeal of the $3 billion annual limit on the USPS $15 billion borrowing limit.
However the USPS was left with only a $10 billion line of credit. Other stimulus bills are to come, so maybe USPS will get another chance.
On a happy note, we have a new contract! Congratulations to all the PSEs who will be converted soon, we know you have been receiving letters on your conversions. If you have to take a test, we recommend passing that test. Once you pass and get into a job, you can always bid out if you don't like it.
The retroactive pay due to us in the contractual increase is being worked out at the National level, and they will notify us which pay period those will be on. If you have any questions or concerns about anything feel free to call me.
Attention Clerks! Major Changes for
Realignment on All Tours at the GMF
By Laviena Vargas, Director of Clerk Craft
Management has notified the DMAL that they are proceeding with the planned realignment at the GMF for all three tours. Management plans to mail out notification letters to all impacted clerks April 9, 2020. If you do not receive a letter notifying you of any changes, then you are not being impacted. Please read the letter you receive very closely as it may require a response such as an option letter. The letters are being sent out before management can do the standup talks for the changes with the employees. The reason for the push on the mailing of the letters is to allow the clerks time if they are affected to be able to bid on the April DPM. Standup talks for each section will be given to all clerks coming up with a date and time to be determined.
The changes include Begin Tour hours and scheduled days off. Tour 1 bids BT will be 2200, Tour 2 bids BT will be 0600, and Tour 3 bids BT will be 1400. Some sections will have no changes while other sections may see abolishments with in-section bidding, abolishment for the whole section, option letters for a time change over 1 hour, and letters for a time change of 1 hour or less. The realignment bids will be posted on the May DPM. I encourage all clerks to review the letter they receive and to make any necessary bidding changes to fit their life and schedules as needed. While certain tours will see a decrease in the amount of jobs, other tours may see an increase in jobs in certain sections. According to the number amount of proposed jobs, we anticipate that there will be some unassigned regulars after the completion of the realignment bidding process.
Please also make note when submitting bids that the bids will be defined by pay location in the comments section of the bid. Please note the following:
610 = T2 Automation
710, 510 = T3 & T1 Auto - Colfax
711, 712, 511, 512 = T3 & T1 Auto - West Wing
713, 513 = T3 & T1 Auto - North bank
715= T3 Auto - AFCS
While change is not easy and these changes come at an already stressful time, please know that the Union worked very hard to ensure that all changes were contractually correct. Although the Union does not agree with our entire plant going through another realignment after the 2017 realignment fiasco, the Union would like our members to know that we will be enforcing the CBA on all issues concerning this event.
APWU members are strong hardworking employees and we will get through this just as we do every other obstacle thrown at us! Please Stay Safe!
/lr
opeiu #30
afl-cio
Express 20-02
A Message From Your President
By Bobby Rollins, President
I would like to start by thanking each and every postal worker for showing up to work and continuing to provide our customers with the medications, and vast other essential items they need in this most difficult and challenging time. You are true warriors in the battle with this terrible virus and have been an important lifeline for our general public.
With the Corona Virus impacting Postal Workers across the country and directly hitting home at our own GMF and other facilities recently, it is of utmost importance that each and every employee is clear on certain rights pertaining to Covid-19 in the workplace.
I want to first and foremost want to make it clear that each and every employee has the right to take time off at ANY point they want. If you just began your tour and you got a bad vibe and want to go home, fill out a PS Form 3971 put COVID-19 on it, give it to your supervisor and end your tour and go home. You do not have to have symptoms and you do not have to have been in direct contact with someone who tested positive. You have the right to go home just to protect yourself from possibly being subjected to the devastating effects of the virus. If you're at home and don't want to go to work call the automated system and request FMLA. No documentation is to be required, no discipline is to be issued, and you can request Annual, Sick, or LWOP. If you request paid leave and anyone from management tells you that they are going to LWOP you and not pay you the leave you requested, then please notify your steward so they can contact me immediately. I have established a direct contact with upper management to fast track and get these issues addressed immediately, and sadly we have experienced some problems with supervisors in the field who have required some changes in attitude. These types of actions are unacceptable. To quote our District Manager Jason Mc Mahill and the statement he delivered to the GMF employees, "Each and every employee's health and well-being is more important than the mail". Please keep in mind that the one time you can disobey a direct order is when it pertains to your safety and well-being.
Although I am certainly not in a position to make a decision for any one of you, I ask each and every one of you to give serious thought to what is in the best interest for you and your family in the next 2-4 weeks. If you look at the staggering numbers coming from other Post Offices across the country, we are just fooling ourselves if we don't think that it could be our reality in the near future. With that being said, I highly recommend that everyone pay close attention to the different risk levels and if you are in the high risk category I strongly urge you to give the next 2-4 weeks of your life some serious thought and if your life is really worth risking coming to work.
If you have been in direct contact with someone who has tested positive or you have symptoms or generally don't feel like yourself then please respect your co-workers safety and well-being and immediately stay home until you feel better for at least three days in a row. If your condition seemingly gets worse opposed to better contact the proper health care officials required immediately and seek medical help.
If you are quarantined by the CDC, Health Department, or sent home by management as a result of Covid-19 you will be paid Administrative Pay. PSE's have 80 hours of "other paid leave" to use for self or mandated quarantine or to stay home and watch/care for your kids while they are unable to attend school. This is a benefit that was negotiated at the National Level with Headquarters because PSE's don't earn S/L.
I requested that management put red tape and sneeze/cough protectors in the lobbies of all of our Post Offices and was deeply concerned that several weeks passed and it still wasn't done. I give kudos to Wheat Ridge and Edgewater as both facilities took matters into their own hands and created their own barriers to enforce the social distance rule and provided the protection that each and every window clerk deserves. These are simple measures that need to be acted on quickly because every minute of every day without could certainly result in a higher rate of illness and possibly death amongst our window clerk workforce. I was told that the barriers should be installed in all stations and branches by the end of next week and at the latest the beginning of next week. I urged management to please hang clear shower curtains or place tables in front of the counters between the clerks and customers to "force" the social distance rule until the plexi-glass barriers arrive but didn't receive confirmation that it would happen. This is concerning and I hope they do the right thing and what is in the best interest of each and every one of you. A lot of the facilities I visited that didn't have barriers had stores that were open within a block of the facility that had shower curtains and rods available and it's a cheap, effective, quick fix. I urge them to make this happen.
I can't emphasize enough about obeying the social distancing rule in the workplace. If you work in a congested operation, then concessions need to be made to alleviate the congestion. It would be great if management and the employees in the operation could come together and find the best possible solution to the problem immediately. If a resolution isn't reached to abate the problem, then contact your union representative so I can be notified and address the issue immediately with upper management.
In lieu of the numerous positive cases coming out of the GMF, the size of the facility, and the number of employees in and out of the facility per day; Plant Manager Mary Alt is putting measures in place to have the GMF sanitized with spray misters. I have requested to have this done on a regular schedule as frequently as possible but have not secured a commitment from management yet on cleanings beyond the initial one.
The virus has definitely had an impact on our Steward force as some have chosen to self-quarantine for various reasons all of which I support. It is imperative that each and every one of you know that the APWU has secured extensions for grievance activity at all levels. If you feel your contractual rights have been violated and your steward is not available then please document what your issue is and provide all the specific details you can and contact your steward when they return to work so your issue can be grieved. There shouldn't be any Investigative Interviews happening right now for attendance. If you are summoned for an Investigative Interview for attendance contact your union representative right away so I can be notified and fast track this issue with upper management immediately.
Each and every employee should be getting a stand-up talk every day. If you are not getting stand-ups then contact your union representative so I can be notified and fast track this issue right away.
I am very much aware that management reads our newsletters as much as our members do and for all whom do I please ask that you respect the rules as outlined and do your best to have your employees' best interest at heart and I won't have to submit your name into the fast track. If you chose to ignore the rules and make life miserable for your employees during this most volatile time you can expect that there will be virtually nothing you can do beyond that point to regain the dignity and respect that will be lost by your employees and this union.
In closing I'd like to say that on a more positive note the APWU did secure a new contract and I will be putting out a special news express with the highlights of the new contract. In the meantime, stay safe and thank you all for your important service to our grateful customers. They have showed their appreciation in many different ways that not all of you are aware of. The number of cards and letters the post office has received, and the number of signs being held up by customers in the window of their homes thanking their carriers as they approach to place their mail in the mail box are increasing by the day. They are truly thankful as am I.
Zero Tolerance Policies and
the Postal Service Standards of Conduct
by Charles Quintana, Assistant Director of Clerk Craft
The Postal Service is committed to the principle that all employees have a basic right to a safe and humane working environment. In order to ensure this right, it is the unequivocal policy of the Postal Service that there must be no tolerance of violence or threats of violence by anyone at any level of the Postal Service. Similarly, there must be no tolerance of harassment, intimidation, threats, or bullying by anyone at any level. Violation of this policy may result in disciplinary action, including removal from the Postal Service. (ELM 665.24 Postal Service Standards of Conduct)
Every employee has the right to work in a safe environment free of harassment or other inappropriate conduct. According to USPS policies on the subject, inappropriate behavior undermines moral and violates the USPS policies and standards of conduct. Policies on inappropriate behavior and standards of conduct can be found in the ELM as well as on Zero Tolerance policy directives that have been put out from USPS headquarters. Poster 150 outlines Workplace Harassment from what you can do to how your supervisor should handle any allegations.
Workplace harassment is a sensitive subject and can be hard to deal with because of the various circumstances and factors of the issues involved. But there are certain steps management must take when confronted with any accusations of inappropriate behavior.
Management must react promptly, and they must protect the confidentiality of the subject. Managers should investigate all complaints using Publication 552.
The most important thing management is tasked with is investigating, understanding, and preventing any and all harassment complaints. The investigation should be thorough, complete and unbiased.
It works both ways! If we expect a safe environment free of harassment, then we should not engage in any actions that entice this behavior. Report any concerns to your supervisor.
If you have any questions, feel free to call me.
COVID-19 Stand Up Safety Meetings
by Tinamarie Vivens-Stafford, Director Human Relations
On March 25, 2020, Management held Stand Up Safety Meetings on all tours at the GMF. As you may already know, we have had the first Positive Coronavirus case at the GMF. Due to the HIPPA Law the only information that management could give us is that the person is a Mail Handler. This made some employees upset and concerned about their safety. According to the Center for Disease Control and Prevention (CDC) the GMF is in no imminent danger and that they do not need to quarantine or contact anyone in the immediate work area. The major points from the meetings were:
-Management is giving us a choice on whether we want to continue working or not under these unprecedented conditions.
-Regulars can self-quarantine without any questions asked and use SL, AL, or LWOP.
-PSE's were granted other paid leave up to 80 hours for the same purpose. You will forfeit your leave if not used by May 17, 2020.
-If you call in on the 1-877 or online under liteblue "eLRA" use "Community Disaster" for the COVID-19.
-Management will code COVID-19 call-in's as FMLA. If you receive a FMLA packet and you're not able to get it filled out, it will not be held against you.
-If you turn in a 3971 in the "remark" section put COVID-19.
-This all falls under the "Liberal Leave and Change of Schedule" which was negotiated by the APWU National Officers.
-If you receive a positive test or in direct contact with a person that tested positive DO NOT come in to work. Contact your supervisor so that the appropriate actions can be taken by management.
-If you are sick please stay at home.
-Remain 6 feet from each other, wash your hands, gloves and masks are available upon request.
-1767's should be filled out if your area is not being cleaned or your out of the above supplies. Please give a copy to your steward.
-Take a shower and wash your cloths once you arrive at home.
-The GMF is in the process of being wiped down with the alcohol solution approved by the CDC and will be cleaned thoroughly on a regular basis.
-Management found a company that makes hand sanitizer, we will all receive our own bottle and can refill it. The larger bottle will be kept in a controlled environment and is not for home use.
/lr
opeiu #30
afl-cio
OSHA Press Release
April 8, 2020
U.S. Department of Labor Reminds Employers That They Cannot Retaliate
Against Workers Reporting Unsafe Conditions During Coronavirus Pandemic
WASHINGTON, DC – The U.S Department of Labor's Occupational Safety and Health Administration (OSHA) is reminding employers that it is illegal to retaliate against workers because they report unsafe and unhealthful working conditions during the coronavirus pandemic. Acts of retaliation can include terminations, demotions, denials of overtime or promotion, or reductions in pay or hours.
"Employees have the right to safe and healthy workplaces," said Principal Deputy Assistant Secretary Loren Sweatt. "Any worker who believes that their employer is retaliating against them for reporting unsafe working conditions should contact OSHA immediately."
Workers have the right to file a whistleblower complaint online with OSHA (or 1-800-321-OSHA) if they believe their employer has retaliated against them for exercising their rights under the whistleblower protection laws enforced by the agency.
OSHA's Whistleblower Protection Program webpage provides valuable resources on worker rights, including fact sheets on whistleblower protections for employees in various industries and frequently asked questions.
OSHA enforces the whistleblower provisions of more than 20 whistleblower statutes protecting employees from retaliation for reporting violations of various workplace safety and health, airline, commercial motor carrier, consumer product, environmental, financial reform, food safety, motor vehicle safety, healthcare reform, nuclear, pipeline, public transportation agency, railroad, maritime, securities and tax laws. For more information on whistleblower protections, visit OSHA's Whistleblower Protection Programs webpage.
Under the Occupational Safety and Health Act of 1970, employers are responsible for providing safe and healthful workplaces for their employees. OSHA's role is to help ensure these conditions for America's working men and women by setting and enforcing standards, and providing training, education and assistance. For more information, visit www.osha.gov.
The mission of the Department of Labor is to foster, promote and develop the welfare of the wage earners, job seekers and retirees of the United States; improve working conditions; advance opportunities for profitable employment; and assure work-related benefits and rights.
# # #
Media Contact:
Emily Weeks, 202-693-4681, weeks.emily.c@dol.gov
Release Number: 20-596-NAT
Page Last Updated: Jan 25, 2021 (12:46:30)