Breaking News
Families First Coronavirus Recovery Act
Families First Coronavirus Recovery Act
April 2, 2020
The Families First Coronavirus Recovery Act (FFCRA) extends to postal employees some additional leave benefits due to the Coronavirus and the illness it causes--COVID-19. APWU represented employees, both career and non-career, are entitled to the leave provisions enacted by the FFCRA.
Two new leave types are now extended to postal employees.
Up to 80 hours of Emergency Paid Sick Leave for specific qualifying reasons.
Public Health Emergency Leave, which amends the Family and Medical Leave Act (FMLA), allowing employees to take up to 12 weeks of leave related to the closure of a minor child's school or place of care due to COVID-19.
The law went into effect on April 1, 2020, and covers absences from that day forward. If you were off work prior to April 1st, you cannot retroactively claim benefits under the new law. However, you can claim benefits for any qualifying absences from April 1 through December 31, 2020.
No matter your length of service or status as a career or non-career employee you are eligible for the Emergency Paid Sick Leave. If you meet one of these qualifying reasons:
You will be paid up to 80 hours at your regular rate of pay up to a maximum of $511 per day (APWU represented employees do not go over this limit) if:
You are subject to a Federal, State, or local quarantine or isolated order related to COVID-19 (state and local "shelter in place" or "stay at home" orders are not considered "quarantines").
You have been advised by a health care provider to self-quarantine related to COVID-19.
You are experiencing COVID-19 symptoms and are seeking a medical diagnosis.
The following reasons allow you to receive ⅔ of your regular rate of pay, up to $200 per day, for the following qualifying reasons:
You are caring for an individual subject to an order described in numbers 1 and 2 above.
You are caring for your child under the age of 18 whose school or place of care is closed (or child care provider is unavailable) due to COVID-19 related reasons.
You are experiencing any other substantially-similar condition specified by the U.S. Department of Health and Human Services.
FMLA is expanded if the employee meets qualifying condition five (5) above. The following regulations apply:
An employee only needs 30 days of employment to qualify for expanded benefits.
The usual 12-weeks of FMLA is not expanded.
The first two weeks are not paid; but you can use Leave Without Pay (LWOP), sick or annual leave you have accrued to cover the two-week period. You may also use the 80 hours of Emergency Paid Sick Leave to cover the first two weeks; but if used here, it would not be able to use it for any other qualifying reason or combination of reasons.
The remaining 10-weeks of FMLA for the indicated qualifying reasons is paid leave – without charge to any contractual paid leave available to the employee; but it is paid at 2/3 the regular rate of pay with a cap of $200 per day and $12,000 for the ten weeks.
All of the regular FMLA rules and benefits remain unchanged when FMLA is taken for any reason other than qualifying reasons five above.
Employees who qualify and use these types of leave may not be removed, disciplined, or discriminated against for lawfully exercising their rights to the emergency paid sick leave or the expanded family and medical leave act.
The APWU reached agreement with the USPS that using this type of leave cannot be considered when a new employee is to be separated on during their 90-day probation (career employee) or first 120-calendar days of work or 90 days worked by PSEs. Anyone who believes this has happened should contact their local union stewards or officers.
Employees who wish to use this leave are obligated to give notice to management that they will be absent for one of the qualifying reasons and request Emergency Sick Leave or the Public Health Emergency Leave (expanded FMLA) benefits. You would request this leave through your normal leave request procedures by either calling the normal phone number or submitting a PS Form 3971 directly to your supervisor or manager. On the form 3971 for type of leave you are requesting, check "other" and write in "Code 077-19" for reason 1-3. In the remarks section write "Emergency Sick Leave--Self". For reasons 4-6 check the other box and write in "Code 081-19" and in the remarks section write "Emergency Sick Leave--Other." If you call in and request this leave make sure you verify your PS 3971 upon your return before signing. You should also verify your pay stubs to ensure you received the proper type of leave.
As with all FMLA related absences you will be required to provide documentation consistent with Department of Labor regulations and the Act. Medical documentation for reasons 1-3 should not be given to your supervisor or manager but rather provided to your local medical unit or the FMLA coordinators department at the Human Resources Shared Service Center. Medical confidentiality policies and procedures still apply. For qualifying reasons 4-6 one of the following should be provided 1) a notice of closure from a state/county/city school system or your private school system; and/or 2) notice of closure from your daycare center; and/or 3) written statement from the employee stating the need for leave due to the school closure, daycare closure, or unavailability of the usual caregiver of the minor child should accompany the PS Form 3971.
We expect the Postal Service to be constantly updating the processes that will need to be put in place to implement this leave. We continue to have regular discussions with the Postal Service on these new provisions and when we receive updates additional developments we will provide them to you.
Stimulus Bill Passes Congress but the Fight Continues
Stimulus Bill Passes Congress but the Fight Continues
March 28, 2020
We are pleased that some working families will be getting a check as a result of the $2.2 trillion stimulus but are also aware that those gains were paired with a corporate bailout of hundreds of billions of dollars. The final language of this bill reflects the Postal Service was all but cut out of the economic relief many private corporations will receive.
"It's outrageous that the stimulus bill passed by Congress doesn't include any financial support for the USPS," said President Mark Dimondstein. "Including needed funds to provide for the safety of workers and the mailing public."
Initial language included in the House bill introduced on March 23, Take Responsibility for Workers and Family Act, included strong postal provisions the postal unions worked with our allies in Congress to secure:
A $25 billion emergency appropriation to the Postal Service for revenue forgone during the COVID-19 crisis.
A repeal of the prefunding mandate established by the 2006 PAEA.
Forgiveness of $11 billion in outstanding debt.
Repeal of the $3 billion annual limit on use of the Postal Service's $15 billion in borrowing authority.
Unfortunately, despite the critical service the public Postal Service is providing during this time of crisis, as negotiations progressed with the Senate and the White House, the USPS was left with only a $10 billion line of credit, which, if utilized, would only further add to their debt. This was not only offensive to postal workers but demonstrates the continued disrespect this administration has for the valuable role of the public Postal Service.
"Postal Workers are on the frontlines each day ensuring that the millions of Americans whose lives have been disrupted can still receive deliveries of vital supplies and medicines," said Legislative & Political Director Judy Beard. "The Postal Service is uniquely positioned to serve the public as it has done throughout many other moments of national turmoil."
We expect a fourth stimulus bill to be introduced to address the shortcomings of this recent legislation. Not only is the future of the Postal Service at stake, but working families will also need more relief than only a one-time check. The APWU will continue to work with our sister postal unions and allies to advocate for strong legislation to swiftly address the financial crisis the Postal Service is facing as a result of the COVID-19 pandemic.
APWU is also meeting with Congress to seek help to get safety equipment to post offices nationwide. The safety and health of our members remains our top priority.
New Pay Scales Available
New Pay Scales Available
March 27, 2020
The 2018-2021 Collective Bargaining Agreement interest arbitration award, issued March 10, 2020, granted three general wage increases and retained Cost-of-Living Adjustments (COLAs).
There are four retroactive increases: two general increases November 24, 2018 (1.3%) and November 23, 2019 (1.1%) and two COLAs August 31, 2019 and February 29, 2020. There are three more COLAs during this contract. The updated pay scales will take effect pay period 9-20, and the increases will be in workers' paychecks on May 1, 2020.
Effective Nov. 21, 2020 (PP25-20), the basic annual salary for each step shall be increased by 1.0 percent.
Postal Support Employees, who do not receive COLAs, will have two additional increases in May of 2020 and 2021.
Statement from President Dimondstein: Postal Workers in a Time of Crisis
Statement from President Dimondstein: Postal Workers in a Time of Crisis
March 25, 2020
Since the early days of the Postal Service, we postal workers have helped stitch the fabric of the country together. Even in times of crisis – whether natural disaster, conflict, or economic calamity – the Postal Service has always been there, steadily reaching every American home and business in their time of need.
Today is a time of crisis unlike any we've seen in generations. A global pandemic threatens the health of millions and is leading to an economic collapse that could dwarf the Great Recession.
Hundreds of millions of people are sheltered in their homes, avoiding the grocery, pharmacies and other stores as we attempt to slow the spread of the virus. Many workers will soon be without paychecks. Public health officials are desperate to effectively disseminate health-saving information, tests, and drugs.
The United States Postal Service is critical to the country's public health and economic stability in this moment. Postal workers are up to the task. Our network of 157 million daily delivery points, 35,000 post offices and more than 500,000 dedicated public servants is uniquely positioned to serve the country in the weeks and months ahead.
The Postal Service is the only way for millions of people to receive their medications. Last year, we delivered over a billion prescriptions. It's the only way to disseminate stimulus checks and critical public health information and supplies to every household. Vote-by-mail will be essential to holding elections in November. And, in this new era of "social distancing," it's still a time- tested way to connect families and friends no matter where they are.
But if the Postal Service is to meet the challenge of the times, two immediate issues need to be resolved:
First, postal workers must have safe workplaces. Our union is working to ensure the Postal Service provides for the health and safety of our members and the mailing public. We have already secured important changes to leave, staffing and post office policies. We remain concerned that the distribution of personal protective equipment and sanitizers has been uneven across the country.
Every member from the shop floor to the national office must continue our demand that we have safe workplaces, safe staffing and the necessary equipment and supplies to fulfil our mission.
Second, Congress must act immediately to ensure the financial viability of the Postal Service. We were deeply disappointed that stimulus legislation nearing passage Wednesday does not include vital relief for the Postal Service. The economic fallout of the pandemic calls for measures far beyond the prefunding repeal we've long sought.
House legislation initially sought in excess of $25 billion in direct relief for the USPS. If Congress does not act soon and on a similar scale, the Postal Service will run out of cash in the coming months. Every member must demand of their representatives that postal relief is included in the next stimulus.
Reports surfaced this week that the White House and Treasury Department oppose cash support for the Postal Service. Their resistance would condemn the country's most trusted and highest- rated federal agency to its demise. It would destroy the one institution capable of reaching every person, hinder the country's public health response, and cripple the $1.4 trillion mailing and shipping industry.
Our union had planned to spend much of this month commemorating the 50th anniversary of the Great Postal Strike. Those plans have obviously changed. But let us remember one important lesson the 1970 strike proved: the country relies on the hard work of dedicated postal workers, especially in the toughest of times. I believe our current crisis underscores the value of our work and the universal network we uphold.
Finally, let me conclude by recognizing the extraordinary role postal workers have already played in the throes of this crisis. These are unusual times and many of us are understandably anxious – for ourselves, our families, our jobs and our communities. I, like so many others, am heartened by the extraordinary courage of seemingly ordinary workers serving their neighbors in times of need. Together, let's support each other, encourage each other, demand safe workplaces together and continue to serve each other in these extraordinary times.
-----------
We constantly update resources available to members at apwu.org/coronavirus
Union, Management Agree to Local Implementation Timeline
Union, Management Agree to Local Implementation Timeline
March 12, 2020
In the wake of the arbitration award on the new Collective Bargaining Agreement, the APWU and USPS have agreed to a timeline for local negotiations, Director of Industrial Vance Zimmerman announced.
Local unions or management can open bargaining over changes to local agreements, in accordance with the schedule outlined in the March 11 Memorandum of Understanding [PDF]:
Written notice of intent to negotiate by must be provided not later than May 24, 2020.

Negotiations occur for 30 consecutive days within a 60-day period, commencing on May 10, 2020, and ending July 9, 2020.

Initial proposals must be exchanged within the first 21 days of the 30 consecutive-day period.

All negotiations end July 9, 2020.

Appeals to impasse must be filed not later than July 30, 2020.

APWU appeals must be sent to Labor Relations Service Center.

USPS appeals must be to the APWU Regional Coordinator.

APWU Region/USPS area impasse discussions end September 22, 2020.

Appeals to arbitration must be filed no later than October 13, 2020.
We Have a New Union Contract!!
We Have a New Union Contract!!
Retroactive Back Pay and COLA Awarded
March 11, 2020
The big news is in – 200,000 postal workers represented by the APWU have a new union contract!
Neutral Arbitrator and Interest Arbitration Panel Chair Stephen Goldberg issued his binding decision on the terms of the new union contract between the American Postal Workers Union and the United States Postal Service.
The Award was the product of 20 months of preparation, member and local union input, negotiations, mediation, a strong contract campaign and a well-prepared and presented arbitration case. Thirty-two workers testified about their work. Officers and subject matter experts testified for the union. A team of economists presented our case and rebutted management's presentations for union concessions.
"No interest arbitration is ever totally in favor of one side or the other," said APWU President Mark Dimondstein. "But we have achieved a number of our major goals including retroactive annual pay raises, maintaining of full (and retroactive) COLA, narrowing the gap between the lower and higher career pay scales, the career conversions of thousands of PSEs and maintaining tremendous job security. We should all be proud to be union!"
"We also succeeded in stopping management's deeply concessionary demands to end no-lay protections, increase percentages of non-career employees and create a new lower third tier of career employees," shared Industrial Relations Director Vance Zimmerman. "I want to thank the many officers, witnesses, staff, attorneys, specialists and the members for their many efforts in this long battle that helped bring it to a strong conclusion."
Unless specifically changed by this Award, all rights and benefits in the previous contract carry forward into the new one. These include seniority and bidding rights, protections against unjust discipline, the grievance procedure, annual and sick leave, holiday and overtime pay, health and safety protections and so many of the important rights and benefits won over many decades of struggle.
Click here to read the full award. Below, after the video, are the highlights and significant changes contained in the Award.
Three Years: September 21, 2018 to September 20, 2021
CAREER EMPLOYEE GENERAL WAGE INCREASES
Three annual general wage increases totaling 3.4% over the life of the Agreement.
1.3% effective November 24, 2018 (Retroactive)
1.1% effective November 23, 2019 (Retroactive)
1% effective November 21, 2020
COST-OF-LIVING ADJUSTMENTS (COLA)
Semiannual COLAs for career employees will continue under the current formula. Management pushed, but failed, to convert COLAs into one-time lump-sum payments.
$624 or $.30/hour COLA will be applied retroactive to August 31, 2019
$166 or $.08/hour COLA will be applied retroactive to February 29, 2020
Future COLAs will be applied in September 2020, March 2021 and September 2021
COLAs to date add $790 annually or $0.38 per hour to base pay.
The APWU is now the only postal union that has protected and maintained full COLA.
INCREASED COMPENSATION – GENERAL WAGE PLUS COLA INCREASES
Adding the 3.4% in General Wage Increases plus the known COLAs, compensation for a level 6 Step O employee will increase $2,855 over the life of the Agreement. With three additional COLA increases, the total increases over the life of the Agreement will likely come to $3,600 annually, an increase of about $1.75 per hour. In addition, those not yet at the top step of the lower career wage scale will gain new step increases with each Step representing an approximate $.50/hour raise.
STEP INCREASES
APWU argued for the return of higher steps to the lower tier schedule. In response, Arbitrator Goldberg narrowed the gap in the two-tier career pay schedules by adding additional top steps in Grades 5-8 for employees hired after May 23, 2011 (There is no lower tier for Grades 9 and above).
Grade 5: One additional top Step Increase (Step K).
Grade 6-7: Two additional top Step Increases (Steps K & L).
Grade 8: Two additional Step Increases (Steps L & M).
Depending on Grade, each additional step increase approximates $1,000 per year based on full-time straight-time hours of work.
PSE WAGE INCREASES
Since PSEs do not receive COLAs, they receive larger annual general increases:
2.3% effective November 24, 2018 (retroactive)
2.1% effective November 23, 2019 (retroactive)
2.0% effective November 21, 2020
PSEs will receive an additional forty cents per hour raise as follows:
$.20 per hour effective May 23, 2020, and
$.20 per hour effective May 22, 2021.
Over the life of the Agreement a Level 6 PSE pay will rise from the $17.19 to $18.69 per hour.
NO LAY-OFF & JOB SECURITY PROTECTIONS
The no lay-off protections of Article 6 for career employees with more than six years of service remain unchanged. Management argued for increasing the six years to 15 years for current employees with no protection for future hires.
In addition, no lay-off protection is extended for the life of the Agreement to all career employees on the rolls as of the date of this Award who have not yet qualified for protection under the six-year rule.
A ban on subcontracting of any existing PVS driving work during the life of the contract.
No employee can be excessed out of an installation beyond a 50-mile radius.
CAREER EMPLOYEE HEALTH BENEFITS
The FEHB Health Plans and benefits remain in effect for career employees.
No change in employee share of premiums in 2019 and 2020.
In 2021, the USPS contribution level for health premiums will be reduced from 73% to 72% and then remain the same in 2022. 72% is the share federal agencies pay for federal employees and the Postal Service pays for annuitants and EAS employees. This 1% shift represents a cost to an employee of between $75 and $165 per year depending upon health plan options.
The USPS contribution level of 95% of the weighted average to the APWU Consumer Driven Health Plan option will remain in effect for 2021 and 2022.
PSE HEALTH BENEFITS
Improvements in USPS payments of PSE Health Insurance premiums gained in a June 13, 2018 grievance settlement will be incorporated into the Collective Bargaining Agreement. Specifically, the Postal Service will make a bi-weekly contribution equal to 65% of the total premium in the USPS Non-career Health Care Plan for either self plus one or family coverage during a PSE's initial year of PSE employment. And thereafter 75% of the total premium for either self plus one or family coverage. PSE share of premiums can be made on a pre-tax basis. The Postal Service will continue to contribute 75% of the total premium for PSEs electing the APWU Consumer Driven Plan in FEHB.
WORKFORCE STRUCTURE
One-time PSE conversions: All PSEs in 125 work year and larger offices with 30 months or more of service in the installation as of the date of the award will be converted to career. Over 4,000 PSEs will be converted under this provision within 60 days of the Award.
Maintenance will remain an all-career workforce.
MVS will remain an all-career workforce, and maintain the exception that PSEs may be hired to perform some of any "new work" returned to the bargaining unit.
No increase in PSE percentages in the Clerk Craft.
APWU is now the only postal union that has not increased non-career percentages.
UNIFORM & WORK CLOTHES ALLOWANCE FOR ELIGIBLE EMPLOYEES
5% increase in the uniform and work clothes allowance in 2020.
2.5% increase in allowances in 2021.
Compression socks, gloves and overalls will be covered as available items for purchase.
Full uniform allowances for eligible Clerk PSEs will now be incorporated into the CBA. Similarly, any "new work" MVS PSE meeting eligibility requirements would be entitled to a full uniform.
WORK ENVIRONMENT
The Union and Management established a joint task force to address hostile work environments.
WORK RULES
For the first time, pregnancy is now included in the Non-Discrimination language of the CBA.
The Filling of Residual Jobs Memo, which since March 2014 has led to 70,000 PSE conversions to career, continues in full force.
Arbitrator Goldberg reaffirmed that custodial positions should be fully staffed. However he changed under certain conditions what hours apply in calculating "Line H" violations of staffing. Hours associated with long-term absences and excessing events can be exempted from calculations when fully staffed.
Improvement in maintenance training selection.
PSE overtime rules from a June 13, 2018 settlement will be incorporated into the CBA; specifically, time and one-half after eight hours of work in a day and double time over 10 hours in a day or 56 hours in a week.
Small Office Local Memorandum of Understanding is renewed.
The union and management are meeting to determine the exact dates when the new pay rates will be reflected in the paychecks and the date when workers will receive the backpay retroactive checks.
The national APWU will be printing and mailing an updated version of the new union contract to every member as soon as possible.
JOIN THE CONTRACT TOWN HALL CALL
Join the APWU Contract Town Hall Calls at 11 AM and 7 PM on Tuesday, March 17.
The Arbitration Panel, Chaired by Arbitrator Stephen B. Goldberg, has released the Interest Arbitration award.
Don't miss the news, sign up for our town hall calls from APWU to hear the terms of our new contract. The town hall call will run twice to ensure that all members have an opportunity to hear the terms of the new contract directly from Industrial Relations Director Zimmerman and President Dimondstein. We will dial out to all members who sign up for APWU town hall calls.
Sign up for the Town Hall and select the times you would like to be called.
By submitting this form, I give permission to American Postal Workers Union, AFL-CIO to contact me via live, automated or prerecorded calls, text messages or emails to my telephone number and email address that I entered above. I agree to APWU's Privacy Statement. I understand that my telephone service provider may impose charges for these contacts and that I can revoke this authorization at any time by using this form.
APWU Executive Board Endorses Bernie Sanders for President
APWU Executive Board Endorses Bernie Sanders for President
January 30, 2020
The APWU National Executive Board voted on Jan. 29 to endorse Senator Bernie Sanders for President of the United States.
In light of the importance of the presidential election and in response to many inquiries from members as to the union leadership's position, a number of "top tier" candidates, or their designees, were invited to address the Executive Board. Candidates who oppose the public Postal Service were not invited.
"We're pleased that a number of presidential candidates have positions and have taken actions supportive of postal workers and expanding union rights. But when we judge candidates by their long-term and consistent actions, Bernie Sanders stands out as a true champion of postal workers and all workers throughout the country," said APWU President Mark Dimondstein.
"Bernie Sanders has proven he is a fierce advocate on the side of postal workers. He has opposed the closures of postal facilities and reduced service standards. He has been a leader in the fight for expanded postal financial services and was the lone senator who stopped postal privatizers from appointments to the Postal Board of Governors."
Senator Sanders' commitment to working people extends far beyond postal workers. He has a long record of walking picket lines, fighting for living wages and health care as a human right, advocating for veterans' benefits, promoting expansion of social security and opposing every job-killing trade deal like NAFTA. Because of his record, Senator Sanders is now rated as the most popular senator.
The positions of the Sanders campaign align with the APWU's core principles of social and economic justice for all, as expressed in our union Constitution and by delegates to our national conventions.
In a speech to APWU convention delegates, Sanders displayed his long and passionate commitment to the public Postal Service and opposition to all efforts aimed at postal privatization: "The beauty of the Postal Service is that it provides universal service six days a week to every corner of America, no matter how small or how remote. It provides decent paying union jobs to some 500,000 Americans and is the largest employer of veterans…. Yet, the Postal Service is under constant and vicious attack. The same billionaires who want to privatize Social Security, Medicare and public education also want to privatize the Postal Service….The wealthy and the powerful see an opportunity for Wall Street and corporate America to make billions in profits out of these services and couldn't care less how privatization or degradation of services affects ordinary Americans."
Bernie Sanders accepts zero corporate dollars and his "Not Me, Us" campaign slogan reflects Sanders' belief that the campaign is not about electing one individual but rather, "… building a movement with millions of Americans to take on a corrupt political system that holds in place a rigged economy."
"The National Executive Board encourages members and their families to be registered to vote and where available sign up for absentee ballots to exercise this "vote by mail" option, continued Mark Dimondstein. "The Executive Board fully recognizes and respects that our members come from all walks of life, hold many differing political beliefs and vote according to their own conscience. However, for the Executive Board to remain silent at a time when the current administration advocates selling the entire public Postal Service to private corporate interests, would be a failure of our leadership. As with 2016, once again the Sanders campaign is boldly uplifting the goals and aspirations of workers. Simply put, we believe it is in the interests of all postal workers, our job security and our union to support and elect Bernie Sanders as president."
OWCP Online Claim Filing
(This article first appeared in the November/December 2019 issue of the American Postal Worker magazine) ​
All postal employees who are injured on duty will soon have the option of filing Office of Workers' Compensation (OWCP) claims online through the Employees' Compensation Operation and Management Portal (ECOMP). This is a long overdue option that will finally bring the Postal Service into compliance with a Federal Employees' Compensation Act (FECA) regulation requiring all federal agencies, including the USPS, to offer employees electronic claim filing directly with OWCP by December 31, 2012.
A segment of ECOMP, Web Enabled Electronic Document Submission (WEEDS) was initially introduced to postal workers in 2012 as an online tool to assist with claims processing and document tracking, but it alone did not satisfy the federal mandate. WEEDS allows claimants, representatives, medical providers and employing agency staff to upload documents into existing claim files. Claims Examiners are able to view the newly submitted information within four hours. Documents are assigned a Document Control Number (DCN) as proof of receipt and for tracking purposes.
This feature remains available without registration under the expansion of online services but claimants will need to provide their OWCP case file number, date of injury and other personal identifiers to take advantage of this portion of the user-friendly system. As an added security measure, these identifiers must precisely match the existing file information.
DOL reports ECOMP filing is more secure than paperbased filing and permits more efficient data management. Benefits for claimants include an improved ability to track the status of forms and documents submitted through ECOMP, faster claim adjudication, expedited delivery of FECA medical and compensation benefits, and quicker OWCP nurse intervention assignments for employees who are unable to return to work because of workplace disabilities.
The Postal Service has established a staggered Area rollout for its Districts. Employees should not attempt to use the electronic filing application before their District is online. Once implemented, postal management should inform injured workers that e-filing is available. If, however, an employee prefers paper forms and manual filing, management must accept and process paper claim forms. Refusal may subject them to a fine of not more than $500 or 1 year in prison, or both (ELM 542.33).
To use ECOMP, claimants must create an account with a unique user ID and passcode. They will need to provide personal information including their Social Security number, their private email address (not postal) and their immediate supervisor's work email.
After logging in, employees will have access to their personal ECOMP Dashboard; they will be able to file new traumatic injury and occupational disease claims, and track documents submitted through ECOMP with the document's ECOMP Control Number (ECN). They will also be able to submit new forms, such as a CA7 Claim for WLC directly from an existing claim in their dashboard, and be able to file for scheduled awards. In these instances, a claim number will also be required.
Upon employee submission, all new claims (CA1, CA2) will be forwarded to their immediate supervisor for completion of the agency portion of the form. Employees and supervisors will be required to sign and date a paper copy of the form following a short review that is conducted by a USPS Health and Resource Management specialist. The paper form will be retained in the employee's USPS compensation file. The employee's online submission date, not signature date is tattooed on the e-form and will be relied upon to hold the Postal Service accountable to all FECA timely submission deadlines.
ECOMP is maintained by the Department of Labor and is easily accessed through its public internet site. To register, find user guides, video tutorials and to learn more visit https://www.ecomp.dol.gov.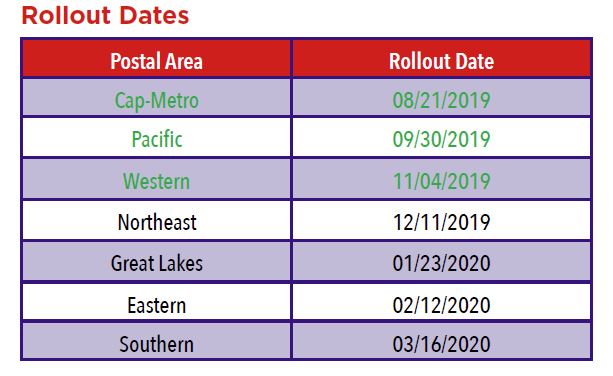 Joining the APWU Just Got Easier
Joining the APWU Just Got Easier
(This article first appeared in the November/December 2019 issue of the American Postal Worker magazine)
Organizing is a daily responsibility that should be shared by everyone. These days it seems as if most everyone has a mobile device of some sort. Now with the new online join tool every one of us can be an organizer! Sign up a non-member in minutes!
I am excited to announce that we are now able to accept membership applications (1187s) online from current APWU Bargaining Unit employees! The "Join APWU" option on the home page of our website will allow a nonmember to complete the entire process from their phone or computer.
The response has been great in just the last few short weeks since launching the tool. New members have been signing up and making the decision to stand with us. After speaking with them, I found out that they felt the process of joining online was very simple.
During the application process, there is also the opportunity for new members to express their desire to play an active role in the APWU by selecting various areas of interest or expertise. This information is then forwarded to their local or state presidents. Also displayed will be their bi-weekly dues amount.
Once the electronic 1187 is submitted, a confirmation email containing the completed 1187 will be emailed to both the new member and the Organization Department. In addition, the Department will be mailing their local or state organization a copy of the 1187.
Form 1187s received through the online procedure will automatically be entered into our system, thereby expediting their processing time.
In some instances, new hires, and those transferring from other unions may not be able to use the online process until the Postal Service has notified APWU Headquarters that the employee is officially on the rolls in our bargain- ing unit. We are continuing to work on making the online option available in these circumstances as well as an avenue for APWU-represented private-sector employees.
In the meantime, these employees can still utilize the hard copy or online PDF version, and return it by mail, email, or fax.
A guide to the "join online" procedure is available here for review/download to aide you in assisting others.
Feel free to reach out to me if you have any questions. As always, I value your feedback.
Organizing in 2020
Let organizing start with you and others will follow. As we kick off a new year, challenge yourself to be that person who takes a stance to organize. Even if you're the first, others will follow. Don't let the fight for the right to organize be for nothing. Remember you are the union!
Work with your local leaders to set the goals to be stronger tomorrow that we are today. As we come to the end of the year, and local and state leaders begin their budget planning for 2020, it is past time to make organizing a priority. Having a budget, and a plan to organize will make all the difference. Remember we are the union and it is only as strong as we make it.
---
Thank you
I would like to express my sincere gratitude and appreciation for your support and vote in the 2019 APWU National Election of Officers. It has been, and will continue to be, a privilege to serve the membership. By working together, we have made some great strides in organizing, and I look forward to working with all of our local, state, and national leaders to keep the momentum going.
We have a lot of hard work ahead, but I have faith we can work through any obstacle that we face by standing together, united!
Page Last Updated: Apr 03, 2020 (08:26:25)