Breaking News
John R. Smith, First Retirees Director, Passes Away
John R. Smith, First Retirees Director,
Passes Away
January 16, 2020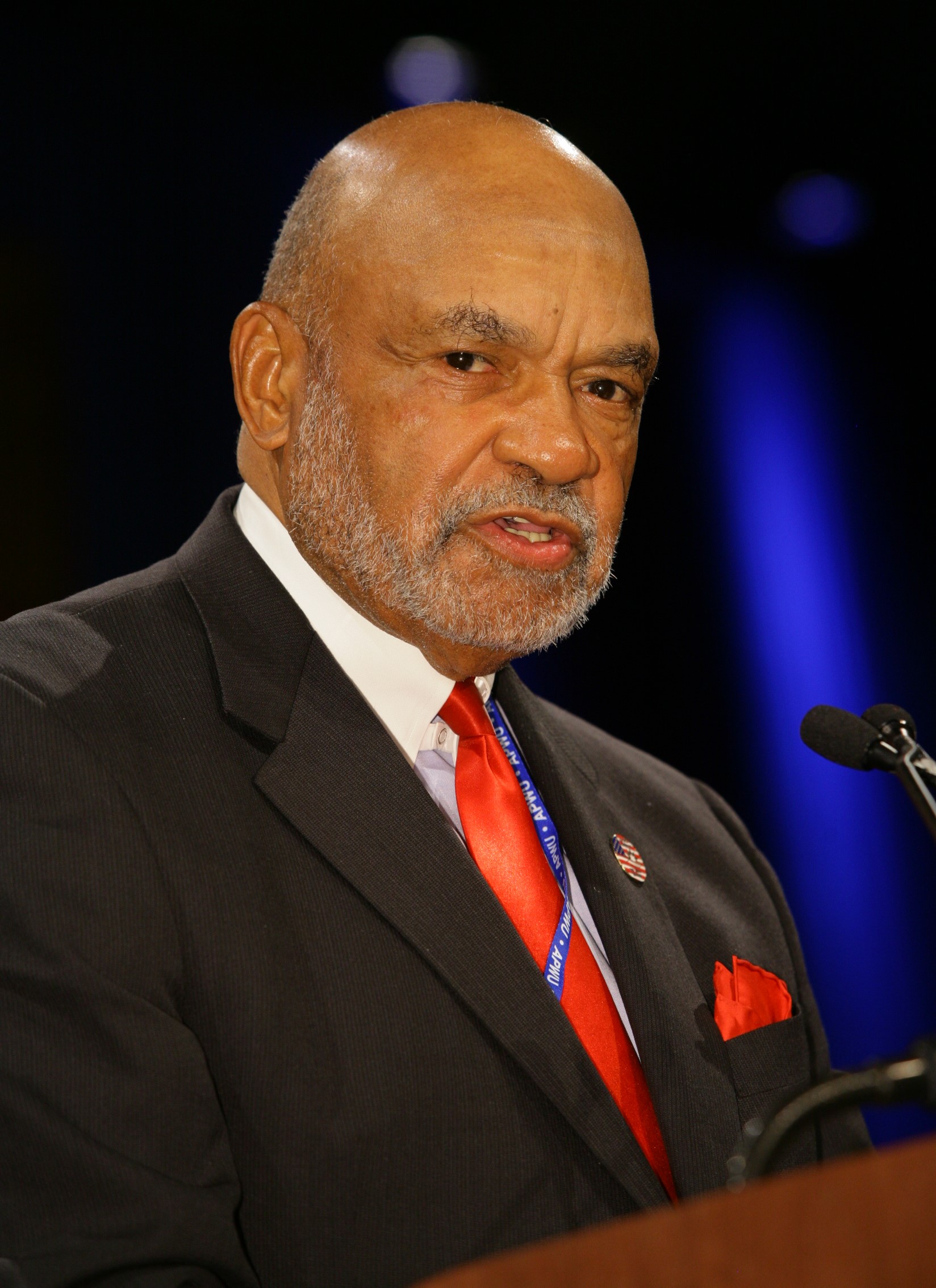 John R. Smith, former Retirees Department Director, passed away Jan. 11, at the age of 91. Brother Smith (known by most as "JR") was the first ever director of the Retirees Department. At the time of his retirement from the APWU on May 7, 2005, Brother Smith had served for 12 years in the position.
Brother Smith began his postal and union career in the early 1960s. In 1964, he was elected president of the Dayton (OH) Local of the National Association of Post Office Mail Handlers (NAPOMH), before becoming president of its state organization in 1965. He was elected state president of the National Postal Union (NPU) in 1969 - an industrial union that included all postal crafts, including mail handlers. After the merger that created the APWU in 1971, Brother Smith was appointed as national vice president of the APWU's Mail Handler Craft (the Mail Handler Division continued for decades in the APWU).
In 1981, Brother Smith returned to Dayton, and served as the president of Dayton Ohio Area Local for 11 years until his appointment as Retirees Director upon the creation of the department in 1993.
"This has been the most rewarding work," Smith said when he retired as Retirees Director in 2005. "Helping people to make the most important decisions they have to make in their entire lives ... not only in deciding when to retire, but in helping them make the decisions they will have to make once they have retired."
"I'm extremely proud of what the Retirees Department has become," Smith said in his farewell. "When we look at other unions, we're doing very well in membership numbers. And the contributions our retirees make to the APWU are outstanding. It's been a great ride."
Brother Smith's contributions to labor and civil rights went far beyond just his APWU career. In April 1994, he traveled to South Africa with six other APWU officers as part of an 89-member AFL-CIO delegation to observe the first free and fair election in the country. The delegation observed the polls in the three-day election that resulted in Nelson Mandela winning the Presidency.
"John R. Smith was a man of God with a voice of authority who made a positive difference in so many lives. He believed in family first and was a friend, mentor, advisor counselor, and consultant to many," said Legislative & Political Director Judy Beard, who joined Smith in the delegation to South Africa in 1994. "When he retired from his position as National Retiree Director, he left me with these words of wisdom: 'stay in the fight for social justice for we have the power to create a better world.' John's union and civil rights work spanned his entire adult life and we will continue to uphold his legacy."
Brother Smith also cared deeply about his community of Dayton, serving on the city's Housing Authority Board, Catholic Elementary School Board, Little League Board, and the United Way at Work Committee. He was a Deacon at Corinthian Baptist Church and taught Sunday school.
"To me, JR was a trailblazer. At the time in your life when most people are looking forward to slowing down, JR spent over ten years building the APWU Retirees Department into a resource that would provide life changing information to APWU members and their families," said Retirees Director Nancy Olumekor. "He encouraged retirees to stay involved in the union by organizing into chapters, to continue to help ourselves, our union and others. JR took risks and succeeded – the Retirees Department is his legacy."
"On behalf of our entire membership, I offer deep condolences to his family," President Dimondstein said, "and great appreciation for John R. Smith's tremendous contributions to the well being of postal and all workers."
Brother Smith was married for 62 years to Mrs. Ida B. Smith, who passed in Sept. 2014. He is survived by his three adult children – Darryl Smith, Cheryl Brown, and Mark Smith – their spouses, numerous grandchildren, relatives and friends.
Over 400,000 People Demand a Postmaster General Who Supports the Public Postal Service
Over 400,000 People Demand a Postmaster General Who Supports the Public Postal Service
On Jan. 6, APWU national officers, fellow union members, organizers and activists, many from organizations in A Grand Alliance to Save Our Public Postal Service (Grand Alliance), gathered at USPS Headquarters to demand the Postal Board of Governors preserve the public Postal Service.
The rally concluded a hugely successful petition drive launched after current Postmaster General Megan Brennan announced in October that she would retire on Jan. 31, 2020.
"We're going in with a simple demand," President Mark Dimondstein said at the rally. "We need a leader of this organization – a new Postmaster General – who believes [in], who will uphold, and who will fight for the public mission of the United States Postal Service…We demand a vibrant, public Postal Service for generations to come!"
Standing together against privatization
APWU Secretary-Treasurer Elizabeth Powell emceed the rally, opening the event with a powerful statement of purpose: "Today, we have more than 400,000 signatures to the Board of Governors demanding that they appoint a Postmaster General that will defend universal service and the public United States Postal Service."
Speakers at the rally condemned the White House for their explicit attacks on the public Postal Service, demanding the administration stop its push for privatization.
"We all know what privatization means. It means they want to cut your wages; they want to take away your benefits; they want to destroy the great reliability of this agency. They want people to make profit off of us. We're not going to let that happen," said AFL-CIO President Richard Trumka.
Social Security Works President Nancy Altman compared the attacks on the USPS to the ongoing attempts to cut Social Security. "The American people are with us," Altman said. "They know across the ideology that the Postal Service is vital to this country, that Social Security is vital to this country."
"We recognize that it is our US Postal Service that opened up more jobs and provided more opportunities for more Americans from various backgrounds…than any other organization or any other industry in our country," said NAACP Washington Bureau Director Hilary Shelton. He spoke about how the fight against privatization is "central to the issues of civil rights protections for all Americans and American families."
Melanie Campbell, President and CEO of the National Coalition on Black Civic Participation, emphasized the importance of the continued struggle against privatization. "We're in for the fight of our lives…to make sure that our Postal Service remains the people's Postal Service," Campbell said.
Following the rally, APWU President Mark Dimondstein led a delegation inside the USPS Headquarters to deliver the petitions to Postmaster General Brennan, who accepted them on behalf of the Board of Governors.
APWU Pushed Petition
The APWU-led US Mail Not for Sale campaign worked with the Grand Alliance to mobilize a response immediately when Brennan announced her retirement in October. President Dimondstein announced the Grand Alliance petition at the late October APWU All-Craft Conference in Las Vegas.
The petition was spread in person, by mail, and online, with APWU members, other postal workers, and community allies joining the US Mail Not for Sale campaign.
As part of the petition drive, the APWU released a new video advertisement during the holiday season, spreading the word to millions of viewers that "No One Gets Left Off the List." The APWU also placed a print advertisement in the Washington Post on Jan. 6 and in The Hill on Jan. 7, reaching over 1 million people.
The APWU's work successfully increased public awareness of the White House's desire to privatize the Postal Service, leading to articles from media organizations including NBC, Fortune, Bloomberg, In These Times, Huffington Post, Government Executive, Federal News Network, and the American Prospect.
Message Delivered
By the end of the drive, over 400,000 people added their name to the petition demanding the Board of Governors preserve the public Postal Service. The day of the rally, the USPS announced Brennan would delay her retirement until a suitable replacement was found.
A new date for Brennan's retirement has not yet been announced. We will post updates as they become available.
Deadly Earthquakes Strike Puerto Rico
Deadly Earthquakes Strike Puerto Rico
A string of earthquakes recently struck Puerto Rico. The largest, a 6.4 magnitude lethal quake, hit early Tuesday morning (around 4AM) causing massive power outages, water, and structural damage to homes, roads, businesses, bridges and of post office installations.
Governor Wanda Vázquez declared a state of emergency stating, "We have not been exposed to this kind of emergency in 102 years."
"Citizen security is a priority, so vulnerable areas are being inspected and all necessary measures will be taken to ensure the safety of all Puerto Ricans," Vásquez said.
Prior to the state of emergency declaration, Puerto Rico Area Local President Juan Carlos Gonzalez-Del Valle urged members to proceed with caution and safety. "Evaluate the situation taking into consideration your safety and your family," he continued, "No work is worth more than our lives."
Given the upsurge of natural disasters, it is important that local Safety and Health Committees are proactive and prepared to address emergency natural disasters to ensure the safety and wellbeing of each and every postal worker.
To support your union family in Puerto Rico, donations can be sent directly to:
Puerto Rico Area Local APWU
1426 Calle San Rafael
San Juan, PR 00909
Tentative Agreements reached for National Professional Postal Nurses (NPPN) and the Information Technology/Accounting Services (IT/AS) units.
Tentative Agreements reached for National Professional Postal Nurses (NPPN) and the Information Technology/Accounting Services (IT/AS) units.
The American Postal Workers Union and U.S. Postal Service have come to tentative terms on Collective Bargaining Agreements (CBA) for the National Professional Postal Nurses (NPPN) contract and the Information Technology/Accounting Services (IT/AS) contracts, announced Support Services Director Steve Brooks.
Professional Postal Nurses Win Tentative Agreement on New Contract
After years of struggle to get a successor collective bargaining agreement, Professional Postal Nurses (NPPN) reached an agreement subject to member ratification. The agreement provides retroactive salary increases of 2.4 percent for 2017, 2.9 percent for 2018, and 3.0 percent for 2019.
If ratified the agreement will run through 2023, with annual salary increases based on the increase in the Employment Cost Index (ECI). Unlike other postal collective bargaining agreement, nurses have traditionally received increases based on the ECI rather than the combination of COLA and general increases. The APWU and USPS will jointly review the current grievance process to determine whether any changes might reduce the complexities involved with one local union representing members in every State.
Separate from the tentative CBA, the NPPN and Postal Service agreed to a memorandum allowing for the hiring of 32 additional Occupational Health Nurses across the country.
IT/AS Tentatively Agrees Contract Extension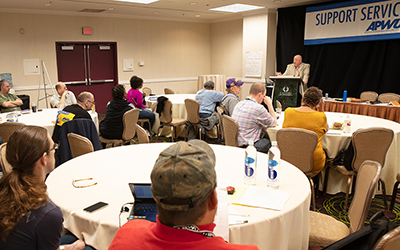 Subject to member ratification, the tentative IT/AS agreement will extend for eighteen months the Collective Bargaining Agreement that expired January 20, 2019. Negotiations have been ongoing since October 2018.
"This relatively short-term extension provides some benefits including work rule improvements now, with a quick return to negotiations early in 2020 for a longer-term agreement when the Postal Service can give its full attention to IT/AS. We see this in everyone's interest," stated Director Brooks.
The extension agreement will expire on July 17, 2020.

Employees will receive retroactive general increases and two retroactive COLA increases.

The agreement also provides for a general increase effective January 18, 2020 and a COLA based on the March 2020 CPI.

The extension also upgrades the:

Accounting Specialist Senior from level 17 to level 18,

Property Control Specialist level 14 to level 16,

Procurement & Supply Assistant from level 13 to level 15,

Group Leader Administrative Clerk from level 10 to level 11, and

Administrative Clerk from level 9 to level 10.
There are also working condition changes: creating a career development program, enhancements to the 10/4 work schedules, grievance process improvements, and safety and health procedures improvements.
"All in all, I believe this to be a solid extension agreement and foundation upon which to build in continuing negotiations for a full agreement in the future," stated Director Brooks.
The tentative agreements and ballots will be sent to members for ratification.
APWU Organizing Victory!
Welcome to the APWU Family HRSSC Workers
On Tuesday December 17th, a large group of non-supervisory USPS Shared Services Personnel Processing Specialists at the Human Resource Shared Services Center (HRSSC) in Greensboro, NC voted to join the APWU! The margin of victory was an overwhelming 161-47!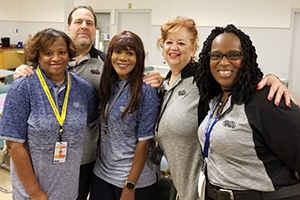 The vote was the culmination of a six-month organizing campaign initiated by employees at the HRSSC. The employees are fed up with their current "pay for performance" system, but until now they lacked their union to bargain with postal management for needed change.
The employees' internal organizing committee worked tirelessly to educate co-workers, sign union cards, hold meetings, distribute flyers and do everything needed to win collective bargaining rights. Their efforts included a delegation of six employees who took their own time and traveled to Washington, DC to join APWU President Mark Dimondstein in a meeting with Postmaster General Megan Brennan, to ensure their rights to organize were fully respected.
"The APWU enthusiastically welcomes the HRSSC Specialists into our union family and we have already issued the new local union its charter," said President Mark Dimondstein. "We salute the determined work of the organizing committee and the guidance of APWU national organizer Rich Shelley in bringing this campaign to victory. In addition, I commend the Postal Service for respecting the legal right of the employees to unionize without interference."
The APWU leadership looks forward to working together with these newly-organized postal employees to achieve a union contract that respects and rewards the important work they perform. It is a victory for all postal workers that these employees understand and appreciate the collective strength of workers joining together in the APWU.
The People's Postal Service: No One Gets Left Off the List
The People's Postal Service: No One Gets Left Off the List
The people's public postal service means no one gets left off the list. The next Postmaster General should protect universal home delivery and keep public ownership of the U.S. Mail. It's the People's Postal Service: Keep it. It's Yours.
Negotiation/Arbitration with the USPS
Negotiation/Arbitration with the USPS
(This article first appeared in the November/December 2019 issue of the American Postal Worker magazine) ​
Most postal workers would be surprised to learn that during negotiations for a new Collective Bargaining Agreement (CBA), the top management officials did not meet with the union to discuss and resolve issues to secure a new CBA. However, management did come to interest arbitration to tell the Arbitrators what they "need" from a new CBA.
Testimony of COO Dave Williams
Chief Operating Officer (COO) David Williams, head of postal operations and second in command to the Postmaster General, bashed postal workers from every craft and utilized vague old corporate code words to indicate postal workers should be paid less and management should have more power to do whatever they want. Williams used the word 'flexibility' and its variations approximately 56 times during his testimony. He utilized companion corporate words 'agile' 11 times and 'nimble' seven times. Williams openly talked about replacing workers with automation and technology, including utilizing a fake "avatar" instead of a real person at post offices.
The USPS used a worsening financial condition to argue for lower wages and greater management control. Although management touched on it slightly, the 2006 Postal Accountability and Enhancement Act (PAEA) changes, pushed by privatizers and the large mailers, implemented an unreasonably aggressive prefunding of retiree health care and the crippling cap on postage increases that put the USPS in this financial situation. The PAEA also stated the USPS should not offer logical expanded services like postal banking, which has provided much revenue for postal services in other countries and would help Americans keep more income as opposed to turning it over to corporations that charge outrageous sums for basic financial services.
The Revolving Door
COO Williams' testimony sparked a reminder of the revolving door between the large mailers and the top managers of the USPS. Williams mentioned that the Postal Service was investing in automated guided vehicles to replace what are commonly referred to as "tuggers." Williams did not mention that the USPS contracted with the Seegrid Corporation for those tuggers, and that former PMG Patrick Donahoe was on their Board. Also, former top postal managers occupy the top positions in influential large mailer business associations that pushed the PAEA and continue to push for reducing employee numbers and wages.
Williams's performance as COO and his testimony at the interest arbitration session demonstrate to the large mailers that he is worthy of their consideration to the vacant PMG position and/or could follow similar top management officials into lucrative positions working/consulting for the large mailers.
Imagine
Despite the deck seemingly stacked against us, there are plenty of reasons for hope. Poll after poll shows that the American people overwhelmingly think highly of and support the Postal Service. Millions of workers would like the opportunity for living wage postal jobs in their community. We have in our history the Great Postal Strike of 1970, along with the Sears and Staples boycott victories. I am hopeful because it really should be an easy fix.
Imagine you are observing an island with 100 people where one person lives in luxury, owns all the land and controls all the resources. He might have 19 people that he pays a bit better than the rest to try to control the 80 employees/ peasants. How long should it take for those 80 people to change the system over to a fair system?
How does the vast majority of people allow a few people to dominate them? What is needed to be done to change things for the better?
Answer these questions, and the people on the island can create a truly democratic system. Answer these questions, and postal workers can create a better Postal Service that serves our communities while providing good, meaningful work and wages and benefits that result in a better life for postal workers and their families.
OWCP Online Claim Filing
(This article first appeared in the November/December 2019 issue of the American Postal Worker magazine) ​
All postal employees who are injured on duty will soon have the option of filing Office of Workers' Compensation (OWCP) claims online through the Employees' Compensation Operation and Management Portal (ECOMP). This is a long overdue option that will finally bring the Postal Service into compliance with a Federal Employees' Compensation Act (FECA) regulation requiring all federal agencies, including the USPS, to offer employees electronic claim filing directly with OWCP by December 31, 2012.
A segment of ECOMP, Web Enabled Electronic Document Submission (WEEDS) was initially introduced to postal workers in 2012 as an online tool to assist with claims processing and document tracking, but it alone did not satisfy the federal mandate. WEEDS allows claimants, representatives, medical providers and employing agency staff to upload documents into existing claim files. Claims Examiners are able to view the newly submitted information within four hours. Documents are assigned a Document Control Number (DCN) as proof of receipt and for tracking purposes.
This feature remains available without registration under the expansion of online services but claimants will need to provide their OWCP case file number, date of injury and other personal identifiers to take advantage of this portion of the user-friendly system. As an added security measure, these identifiers must precisely match the existing file information.
DOL reports ECOMP filing is more secure than paperbased filing and permits more efficient data management. Benefits for claimants include an improved ability to track the status of forms and documents submitted through ECOMP, faster claim adjudication, expedited delivery of FECA medical and compensation benefits, and quicker OWCP nurse intervention assignments for employees who are unable to return to work because of workplace disabilities.
The Postal Service has established a staggered Area rollout for its Districts. Employees should not attempt to use the electronic filing application before their District is online. Once implemented, postal management should inform injured workers that e-filing is available. If, however, an employee prefers paper forms and manual filing, management must accept and process paper claim forms. Refusal may subject them to a fine of not more than $500 or 1 year in prison, or both (ELM 542.33).
To use ECOMP, claimants must create an account with a unique user ID and passcode. They will need to provide personal information including their Social Security number, their private email address (not postal) and their immediate supervisor's work email.
After logging in, employees will have access to their personal ECOMP Dashboard; they will be able to file new traumatic injury and occupational disease claims, and track documents submitted through ECOMP with the document's ECOMP Control Number (ECN). They will also be able to submit new forms, such as a CA7 Claim for WLC directly from an existing claim in their dashboard, and be able to file for scheduled awards. In these instances, a claim number will also be required.
Upon employee submission, all new claims (CA1, CA2) will be forwarded to their immediate supervisor for completion of the agency portion of the form. Employees and supervisors will be required to sign and date a paper copy of the form following a short review that is conducted by a USPS Health and Resource Management specialist. The paper form will be retained in the employee's USPS compensation file. The employee's online submission date, not signature date is tattooed on the e-form and will be relied upon to hold the Postal Service accountable to all FECA timely submission deadlines.
ECOMP is maintained by the Department of Labor and is easily accessed through its public internet site. To register, find user guides, video tutorials and to learn more visit https://www.ecomp.dol.gov.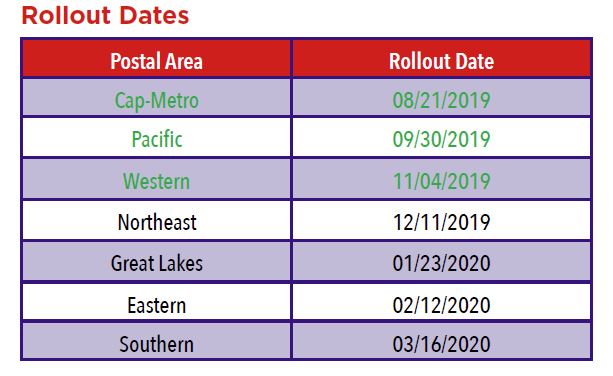 Joining the APWU Just Got Easier
Joining the APWU Just Got Easier
(This article first appeared in the November/December 2019 issue of the American Postal Worker magazine)
Organizing is a daily responsibility that should be shared by everyone. These days it seems as if most everyone has a mobile device of some sort. Now with the new online join tool every one of us can be an organizer! Sign up a non-member in minutes!
I am excited to announce that we are now able to accept membership applications (1187s) online from current APWU Bargaining Unit employees! The "Join APWU" option on the home page of our website will allow a nonmember to complete the entire process from their phone or computer.
The response has been great in just the last few short weeks since launching the tool. New members have been signing up and making the decision to stand with us. After speaking with them, I found out that they felt the process of joining online was very simple.
During the application process, there is also the opportunity for new members to express their desire to play an active role in the APWU by selecting various areas of interest or expertise. This information is then forwarded to their local or state presidents. Also displayed will be their bi-weekly dues amount.
Once the electronic 1187 is submitted, a confirmation email containing the completed 1187 will be emailed to both the new member and the Organization Department. In addition, the Department will be mailing their local or state organization a copy of the 1187.
Form 1187s received through the online procedure will automatically be entered into our system, thereby expediting their processing time.
In some instances, new hires, and those transferring from other unions may not be able to use the online process until the Postal Service has notified APWU Headquarters that the employee is officially on the rolls in our bargain- ing unit. We are continuing to work on making the online option available in these circumstances as well as an avenue for APWU-represented private-sector employees.
In the meantime, these employees can still utilize the hard copy or online PDF version, and return it by mail, email, or fax.
A guide to the "join online" procedure is available here for review/download to aide you in assisting others.
Feel free to reach out to me if you have any questions. As always, I value your feedback.
Organizing in 2020
Let organizing start with you and others will follow. As we kick off a new year, challenge yourself to be that person who takes a stance to organize. Even if you're the first, others will follow. Don't let the fight for the right to organize be for nothing. Remember you are the union!
Work with your local leaders to set the goals to be stronger tomorrow that we are today. As we come to the end of the year, and local and state leaders begin their budget planning for 2020, it is past time to make organizing a priority. Having a budget, and a plan to organize will make all the difference. Remember we are the union and it is only as strong as we make it.
---
Thank you
I would like to express my sincere gratitude and appreciation for your support and vote in the 2019 APWU National Election of Officers. It has been, and will continue to be, a privilege to serve the membership. By working together, we have made some great strides in organizing, and I look forward to working with all of our local, state, and national leaders to keep the momentum going.
We have a lot of hard work ahead, but I have faith we can work through any obstacle that we face by standing together, united!
Page Last Updated: Jan 22, 2020 (10:19:00)