Breaking News
Statement on USPS Service Standard Changes
Statement on USPS Service Standard Changes
September 30, 2021
The United States Postal Service is implementing changes starting Friday October 1 that will slow down mail delivery for tens of millions of people and affect billions of pieces of mail. That date marks the first day of the new service standards for First Class Mail and Periodicals which USPS management is implementing as part of their 10-year plan. The changes lengthen the delivery target from the previous two and three-day standard to as many as five days for many pieces of mail, depending on distance of travel.
This is a step backward for the Postal Service and for millions across the country who rely on speedy mail service. The union remains convinced that the service standard changes will only drive away mail volume and much-needed postal revenue. The APWU opposes these service standard changes and will continue our fight to ensure the people receive the fast and reliable service that they've come to expect and that they deserve.
Earlier this year, the APWU led an effort with organizations across A Grand Alliance to Save our Public Postal Service in opposing the service standard changes when they were under review by the Postal Regulatory Commission. Collectively the union and allies organized over 130,000 comments from the public which were submitted to the PRC and the Postal Service. While the PRC was critical of USPS' proposals, postal management ultimately decided to pursue the service standard changes nonetheless.
APWU has long campaigned not only in defense of the existing standards, but for a restoration of speedier service standards which were in place before July 1, 2012. At that time, overnight First Class Mail within cities and towns was still in place, along with the two and three-day standard coast-to-coast.
"The people deserve the prompt, reliable and efficient mail service promised under the law," said APWU President Mark Dimondstein. "Postal workers are proud to serve our communities every single day. We believe management's response to months of poor performance should be to improve service and regain the public's trust, instead of this focus on moving the goalposts and slowing service standards. We'll stay united with the public until the service standards and postal performance reflect the needs of the public for quality and fast service."
Latest COVID MOUs and Liberal Leave Policy Extensions until Dec. 31
Latest COVID MOUs and Liberal Leave Policy Extensions until Dec. 31
October 1, 2021
President Dimondstein signed extensions on the COVID MOUs late last night (September 30), through December 31, 2021. The liberal leave policy has also been extended (see letter below).
The latest documents can be found below. They are also listed, together with the full archive of MOUs and other resources on the Covid-19 section of the website.
Nabisco Workers Win Strong New Contract Following Month-Long Strike
Nabisco Workers Win Strong New Contract Following Month-Long Strike
Solidarity Wins Again!
September 23, 2021
On September 15, the Bakers, Confectioners, Tobacco Workers and Grain Millers International Union (BCTGM) announced a new tentative agreement with Nabisco/Mondelez. This comes after over 1,000 BCTGM-represented bakers and distribution center workers struck at all five U.S. Nabisco locations. The strike, which began on August 10 in Portland, OR, began after the company demanded unacceptable concessions during bargaining, even with increased profits last year.
On September 18, BCTGM announced that the tentative agreement was overwhelmingly ratified by the workers. The new four-year contract provides strong pay raises, improved 401(k) matching, and leaves the workers' health care plan intact.
"This has been a long and difficult fight for our striking members, their families and our union," said BCTGM International President Anthony Shelton. "Throughout the strike, our members displayed tremendous courage, grit and determination.
"The BCTGM's striking members made enormous sacrifices in order to achieve a quality contract that preserves our union's high standards for wages, hours and benefits for current and future Nabisco workers," Shelton continued. "Their sacrifice will benefit all BCTGM members and working people around the country for years to come."
Democracy: Of, By and For the People
Democracy: Of, By and For the People
September 3, 2021
(This article first appeared in the September-October issue of the American Postal Worker magazine)
The word democracy comes from Greek and translates to "rule by the people." In 1863, President Abraham Lincoln captured this essence of democracy in his famous Gettysburg address upholding a government "of the people, by the people and for the people."
Workers make up the vast majority of 'the people.' Thus, a true democracy would primarily serve the interests of working people – ensuring living wages, safe working conditions, shorter work weeks, healthcare as a human right, affordable housing, healthy food, a sustainable planet, quality childcare and education, dignified retirements, equal rights of all people and world peace.
Yet we live under a system where the interests of the Wall Street corporate profiteers are primarily served by the government. Witness the pandemic: postal and other frontline workers faced dangerous and deadly conditions; the economic collapse put tens of millions out of work; poverty reached the highest level in 50 years; and millions lost health insurance. Meanwhile U.S. billionaires increased their ill-gotten fortunes by 55% ($1.6 trillion!) and laughed all the way to the bank.
Yet, over generations "we the people" have struggled and won vital democratic rights, including voting rights. Though distorted and skewed in favor of the wealthy with the buying and selling of elections, gerrymandering of districts, the "lesser of two evil" choices, the undemocratic institutions of the electoral college and Senate filibuster, and a long history of voter suppression, voting remains a cherished won right.
We are now facing a frenzied wave of voter suppression. Feeding off former President Trump's "BIG LIE" that the 2020 presidential election was stolen and rigged – the blatant falsehood that led to the despicable violent coup attempt of January 6 – there are now new voter suppression laws being promoted in 48 states. Eighteen states have passed 30 laws that will make it harder for people to vote with new restrictions on vote by mail, early voting and drop boxes – aimed at suppressing the powerful African- American and Latino vote (as shown in the Georgia special election), but also directed against all working people.
President Biden pegged this new wave of voter suppression as "an atrocity" and "un-American." Right on the first point. Wrong on the second. Voter suppression is "American as apple pie." Upon the country's founding, no postal worker could have voted, a right only afforded to wealthy, white, male landowners. Woman's suffrage was won just 100 years ago, and did not apply to Black women of the south. African-Americans were denied their right to vote until passage of the Civil Rights Act in 1965, won after generations of struggle and sacrifice. Holding Election Day on a work day is aimed at depressing the workers' voice.
For workers of all backgrounds, the defense and expansion of voting rights is now a critical fight of our time. Whether right, left or center on the political spectrum, I am confident postal workers are united that politicians must not be allowed to pick voters. Voters should be choosing elected representatives.
The For the People Act will overcome much of these state voter suppression laws and ensure early voting, maximum access to mail ballots and easier voter registration (see next page). In March, it passed the House of Representatives. While both mainstream parties have generally failed the working class, shockingly no Republican voted in favor of this fundamental, non-partisan legislation. The Senate filibuster, the antidemocratic "requirement" of 60 percent, rather than a simple majority to move legislation, has blocked the bill from moving forward.
Postal workers, at the intersection of election mail and voting rights, have a special role to play. Last election we proudly carried out our civic responsibility to the people by timely and securely moving millions of ballots. Let's take that same spirit to the streets and Congress. Unite with the AFL-CIO, community allies and the people and demand ending the filibuster and passing the For the People Act and for Election Day to be a paid holiday.
The more democracy, the better our lives will be!
Vaccination Mandates by President Biden
Vaccination Mandates by President Biden
September 10, 2021
On September 9, 2021, the White House released two Executive Orders on vaccinations for COVID-19.
The Executive Orders on Requiring Coronavirus Disease 2019 Vaccination for Federal Employees and on Ensuring Adequate COVID Safety Protocols for Federal Contractors do not expressly apply to Postal Service Employees.
In addition, in President Joe Biden remarks, he stated, "…tonight, I'm announcing that the Department of Labor is developing an emergency rule to require all employers with 100 or more employees, that together employ over 80 million workers, to ensure their workforces are fully vaccinated or show a negative test at least once a week."
Until this emergency rule is developed, the APWU will not know if it applies to Postal Service employees. Once the emergency rule is released it will be reviewed and discussed with our attorneys and additional information on how it applies will be released.
As the APWU has continually stated, all employees are encouraged to wear face coverings at work and are encouraged to voluntarily receive one of the COVID-19 vaccines.
For more COVID-19 resources visit: Coronavirus Information for Members.
Solidarity and Support to Victims of Hurricane Ida
Solidarity and Support to Victims of Hurricane Ida
September 2, 2021
Our thoughts and hearts go out to everyone who has been affected by Hurricane Ida, especially our fellow APWU members.
Hurricane Ida, a Category 4 hurricane, touched down this past weekend, resulting in intense flooding & damage. On Aug. 30, President Biden approved a major disaster declaration for Louisiana. More than 5,000 members of the National Guard have been activated from Louisiana, Mississippi, Alabama, and Texas to support search and rescue and recovery efforts.
"Our brothers and sisters affected by Hurricane Ida are not alone," President Dimondstein said. "We stand together with them and their families as they recover from this recent disaster."
In solidarity, all APWU members are encouraged to continue to donate to the Postal Employees' Relief Fund (PERF). PERF provides relief grants to assist qualifying active and retired postal employees impacted by natural disasters, to help re-establish residence and replenish necessities in the aftermath of a devastating loss. Secure donations can be made by credit card using Pay Pal or through payroll deduction by designating #10268 during the Combined Federal Campaign, which is set to kick-off on October 2nd. PERF is a 501(c)(3) charitable organization. All contributions are tax-deductible.
Resources for Postal Workers
The Postal Service is advising employees in affected areas to call the USPS national emergency hotline at 888-363-7462 to report their condition and check for changes in their scheduled work reporting status.
The Employee Assistance Program (800) 327-4968 is also available around the clock to provide free, confidential counseling and referral services to help employees and their families to obtain resources and cope with their current challenges.
If you are a Union Plus member, you may also be eligible for assistance through the Union Plus Disaster Relief Grant program.
Members in need that have additional questions are encouraged to contact the Secretary-Treasurer's Department at 202-842-4205 or emailing aaugust@apwu.org.
National Maintenance Assistant Director "A" Jimmie Waldon Retires
National Maintenance Assistant Director "A" Jimmie Waldon Retires
August 24, 2021

National Maintenance Assistant Director "A" Jimmie Waldon announced his retirement in August 2021 after over 14 years as a national officer. Prior to being elected to this position on July 18, 2018, he served as the Western Region Maintenance National Business Agent for eleven years. He also served as the Vice President of the Sacramento Area Local.
Jimmie Waldon was a tenacious defender of the Maintenance craft, leading many craft trainings and conferences. He specialized in non-discrimination, leave, staffing assignments, discipline, safety and injury issues; and also served as the BMC Coordinator.
"Brother Jimmie's presence will be missed at the Maintenance Council," Maintenance Director Idowu Balogun stated. "We thank him for his many years of service to the APWU Maintenance Division and wishes him a joyful retirement."
"On behalf of the entire membership, I thank Brother Waldon for his years of dedication and service to the American Postal Workers Union. I wish Jimmie and his family the very best, and a long, happy and healthy retirement," shared President Dimondstein.
AFL-CIO Executive Council Elects Sister Liz Shuler President
AFL-CIO Executive Council Elects
Sister Liz Shuler President
August 20, 2021
Today, the AFL-CIO Executive Council elected Sister Liz Shuler President of the federation to fill the vacancy left by the untimely death of Brother Richard Trumka on August 5.
Sis. Shuler, a member of the IBEW, had previously served as the AFL-CIO's Secretary-Treasurer and is the first woman to lead the AFL-CIO.
Brother Fred Redmond of the Steelworkers was also elected as the next Secretary-Treasurer. Brother Tefere Gebre will continue serving as executive Vice President.
In his remarks before the council, APWU president Mark Dimondstein congratulated Shuler and Redmond and pledged "APWU remains fully dedicated to strengthening the AFL-CIO." He also urged his colleagues to seize the transition as an opportunity to "lead a debate we desperately need on the future of the workers' movement" committed to building workers' power, organizing the unorganized and defending democracy.
The APWU encourages all APWU locals and state organizations to join and be active in their respective Central Labor Councils and State Federations. The unity and solidarity of all workers at every level is essential to the future of our movement.
More information on today's election is available at the AFL-CIO website.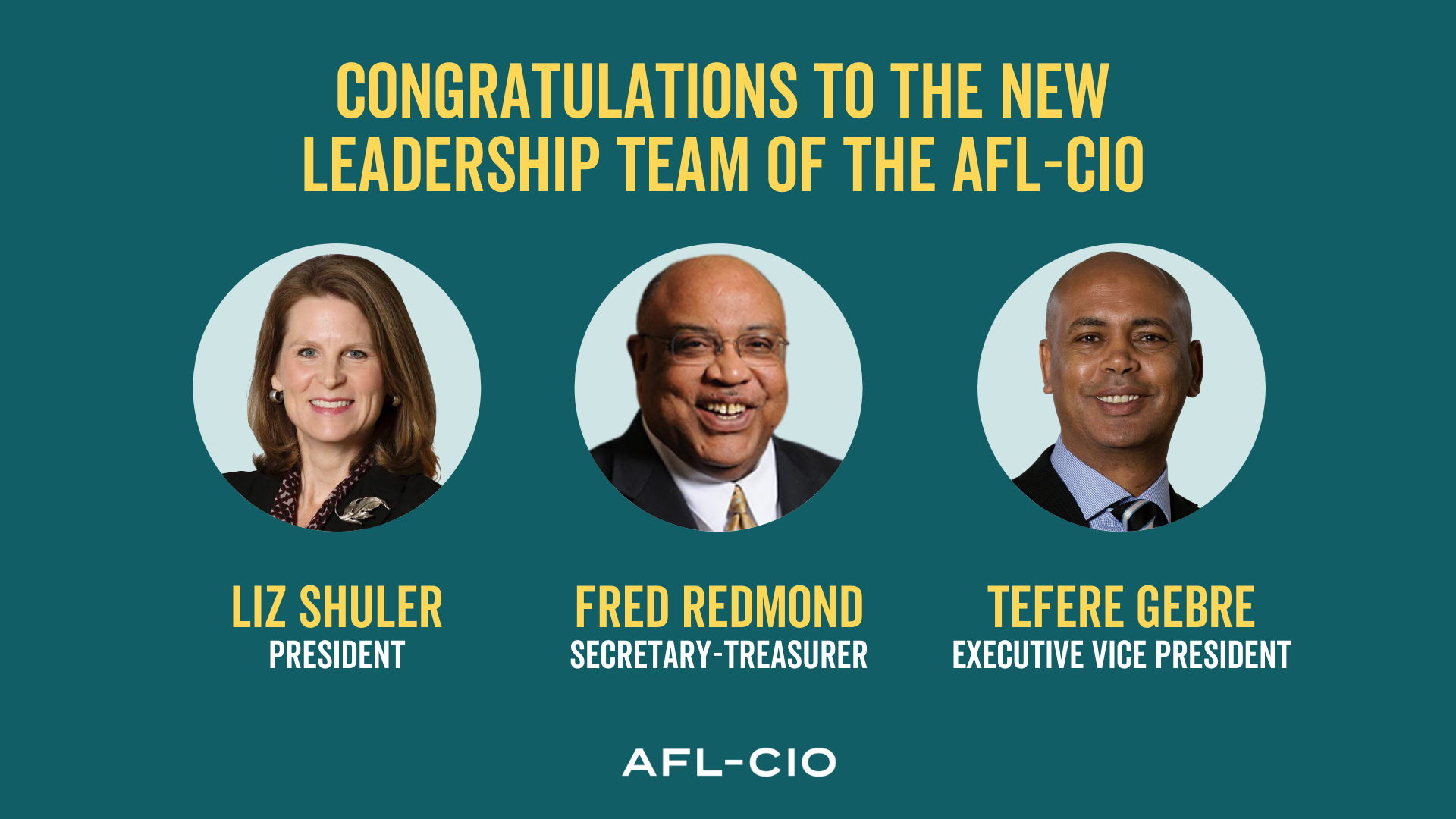 Page Last Updated: Oct 04, 2021 (06:26:00)