Breaking News
Interest Arbitration: APWU Presents Final Witness Testimony With Clerk and Custodial Evidence
Interest Arbitration: APWU Presents Final Witness Testimony With Clerk and Custodial Evidence
Today at Interest Arbitration, APWU presented evidence from the Clerk and Maintenance Craft Divisions.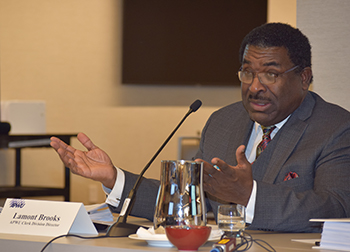 In the morning session, Clerk Craft Director Lamont Brooks addressed USPS management's attacks on union postal clerks' work and our demand for better staffing in the Clerk Craft.
He raised our objections to Postmasters doing bargaining unit work in Level 18 offices. He outlined how management is has continuously skirted the 2010 global settlement, which limited Level 18 office postmasters to doing no more than 15 hours of bargaining unit work in USPS's 8,660 small Post Offices.
Director Brooks also outlined the impact of major understaffing on clerks' work. He tackled the USPS proposals to introduce a universal PSE, forcing PSEs to work extremely varied duties from window duty to mail processing and argued for greater staffing of the Delivery Barcode Sorters (DBCS) machines.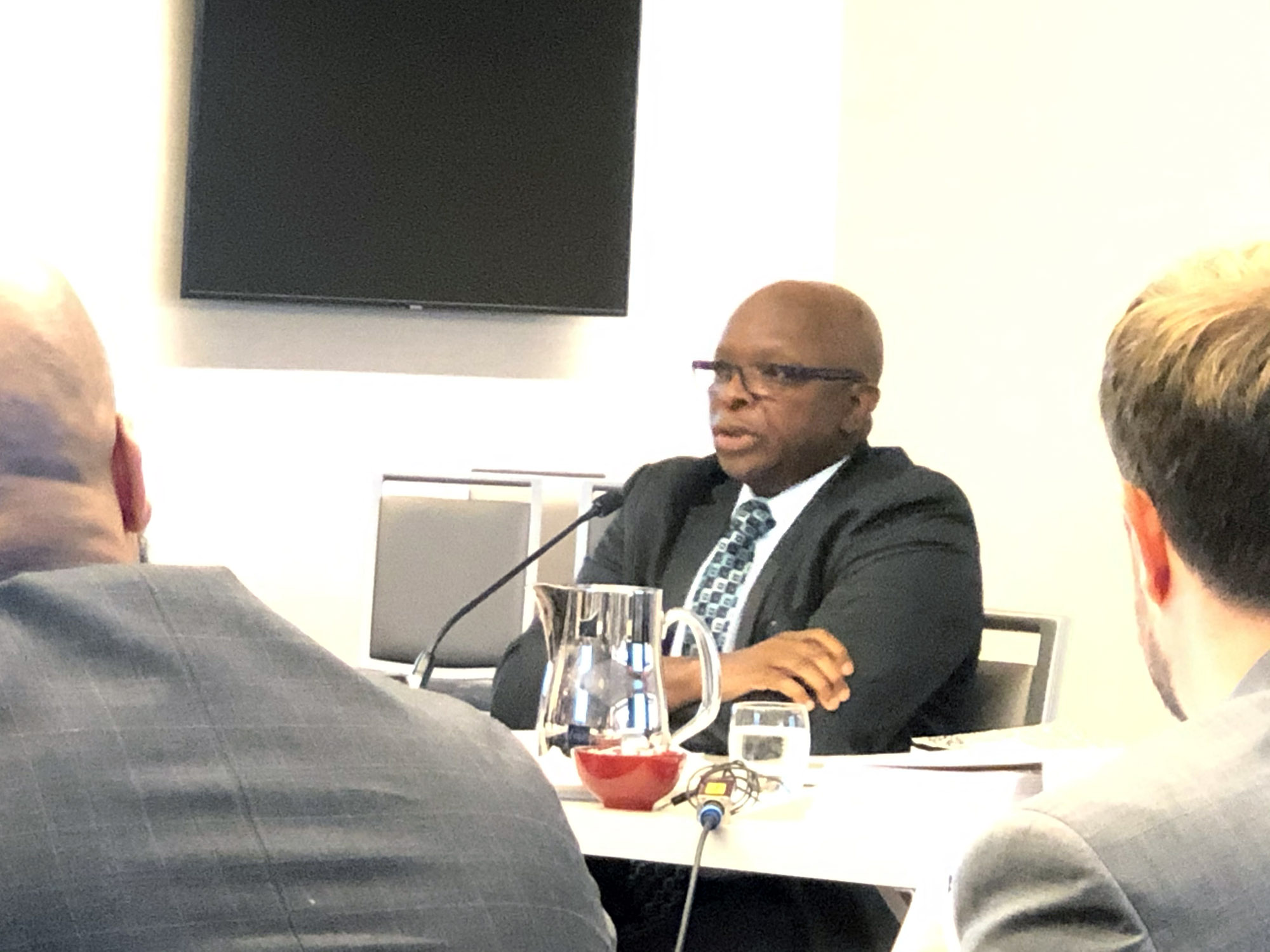 In the afternoon, the Maintenance Division's Director Idowu Balogun and Assistant Director Jimmie Waldon gave evidence on custodial issues. Director Balogun rebutted Postal Management's attempts to carve out more exceptions to Line H and to introduce temporary subcontracting and PSEs for custodial work. He showed how the system already contains plenty of flexibility and he proposed that custodial work be returned to the 1983 MS-47 TL 3 standards.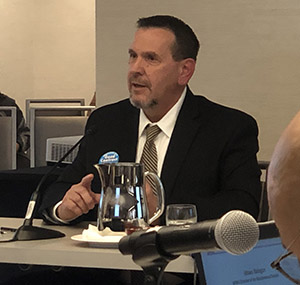 Assistant Director Waldon settled several hundreds of Line H grievances across the Country for failing to staff to the 90 percent level, in line with Line H MOU. He testified that Article 12 withholding, Long Term absences, Military leave, FMLA were not raised as a defense by the Postal services in 99 percent of Line H meetings with the Postal Service.
Interest Arbitration witness testimony and evidentiary hearings will conclude tomorrow as both sides present their final documentation.
Interest Arbitration: APWU rebuts management's economics and MVS proposals
Interest Arbitration:
APWU rebuts
management's economics and MVS proposals
Today at Interest Arbitration, the APWU rebutted some of management's economic arguments, including their controversial claim that postal workers are overpaid for the skills they employ. We also responded to management's regressive proposals for Motor Vehicle Service.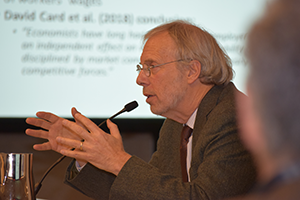 APWU's witness in the morning was Dr. Robert Pollin, Department of Economics and Political Economy Research Institute (PERI) University of Massachusetts-Amherst. Dr. Pollin presented his paper on Wage Rates, Employment Conditions and Living Standards for APWU Membership.
Pollin's evidence focused on the section of the Postal Reorganization Act (PRA) of 1970, which governs pay and benefits. He pointed out that the PRA created a duty for USPS to be a good employer, as well as maintaining wage increases that are comparable with the private sector.
Pollin pointed out serious flaws in the data that management relied on to calculate its comparison with private sector wages. He presented statistics which showed that, across the board, APWU members deserve a solid and substantial wage increase and are not overpaid and under-skilled, as management had argued.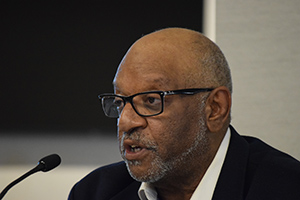 In the afternoon, Motor Vehicle Service Director Michael Foster addressed some of the management's regressive attacks on Postal Vehicle Service (PVS) operators' work.
He emphasized the damage that would be done to the service under management proposals. Under those proposals, PVS operators would no longer bid on specific schedules when bidding on duty assignments. They would also substantially modify duty assignments on a weekly basis without reposting the duty assignment for bidding and remove the protections of Article 8.1, which defines a work schedule as containing 8 hours within 9 hours, or Article 8.2.D, which provides that employees enjoy consecutive off days.
"If granted, the Postal Service's proposals will send PVS into a death spiral. Qualified drivers will not work under those conditions, and the Postal Service will then use its inability to attract drivers as an excuse to contract out PVS work to more expensive HCR contractors. This will harm the reliability of the Postal Service and future of PVS," said Director Foster.
All-Craft Conference: Postal Clerks Are "One family fighting together for all!"
All-Craft Conference: Postal Clerks
Are "One family fighting together for all!"
October 31, 2019

On Wednesday October 30, the Clerk Craft held its General Session after days of in-depth training at the All-Craft Conference.
During the training workshops, clerks received training on topics such as Lead Clerks, TACs, Large Office Issues, Retail and Small Office Issues (Function 4), PSE Issues and Discipline (Article 16).
Much of the morning on October 30 was spent honoring several retiring Clerk Craft National Business Agents, welcoming newly-elected leaders, and setting the goals ahead. "The Clerk Craft provided a well-rounded selection of training to the delegates to take home and continue the fight. What happened in Vegas did not stay in Vegas," said Assistant Director Lynn Pallas-Barber.
"I'm pleasantly surprised by the impressive turnout at the ACC this year," said Assistant Director-elect Sam Lisenbe. "The classes have gone really well. The educational classes will really help out the members on the work room floor."
The General Session had a theme of passing the torch and moving forward with strength and direction.
"I'm proud of how the week has gone in the Clerk Craft division," said Clerk Craft Director Clint Burelson. "I look forward to our members taking the lessons from this conference and bringing them back to the work room floor."
At the General Session, several NBAs honored their outgoing brothers and sisters before a roll-call of newly elected NBAs and Regional Coordinators. In his report opening the session, Director Burelson illuminated the pay disparities that exist in the APWU and the appalling three-tiered system.
Assistant Clerk Craft Director and Director-elect Lamont Brooks detailed his plans for the future, asking the membership to hold him accountable. He also outlined his goals, including the elimination of three-tier wages; contract enforcement; addressing hostile and unsafe workplaces; weekly work hour guarantees for all clerks; improved communication with members; assisting and supporting clerk NBAs and Local Officers and Stewards; and improving Clerk Division National Officer visibility on the work room floor.
"The meeting went excellent. I see a new, reinvigorated Clerk Craft division. We're going to be more progressive and bold," Brooks said. "One family fighting together for all!"
All-Craft Conference Gets to Work on Contract and Climate Change
All-Craft Conference Gets to
Work on Contract and Climate Change
October 30, 2019
Following the day's General Sessions and workshops on Tuesday, October 29, the focus turned to two important APWU priorities: the fight against climate change, and the work of the Contract Action Teams (CAT) to mobilize members and locals during contract negotiations and interest arbitration.
"FIRED UP, READY TO GO!"
CAT Members Meet in the All-Craft Conference
At the CAT meeting, the work of Contract Action Teams throughout the contract negotiation fight was highlighted. Speakers included members of the National Executive Board, who thanked the CATs for mobilizing and inspiring local members to engage in the contract fight on the work room floor. The meeting was facilitated by the Special Assistant to the President, Violetta Ward-Diamond.
Following the speakers, the CAT regional liaisons were recognized. The regional liaisons – Janalee Banks (Western), Wanda Harris (Southern), Angela Buie (Southern), Jennifer Lemke (Central), and Arrion Brown (Eastern) – were integral in coordinating efforts of CAT teams within their region. Individual members also took the podium to tell stories about their experiences on the work room floor during the contract campaign. The lively meeting was filled with applause and cheers, with members loudly joining in a call-and-response of the CAT slogan "Fired up, ready to go!"
"This first face-to-face meeting of CATs from around the nation showcased how our members have successfully used their skills to build worker power surrounding our fight for a good contract by using creative and fun methods." said, President Dimondstein. "This is important work and it has made a difference to our work."
TOWARDS A SUSTAINABLE POSTAL SERVICE
The "APWU Involvement in Climate Change and Postal Service Responsibilities" meeting brought members together to discuss the effects of climate change on communities across the country and how APWU can lead the fight for an environmentally sustainable Postal Service. It was facilitated by APWU National Executive Vice President Debby Szeredy and Greater Seattle Area Local Vice President David Yao. Members from across the country shared how climate change has affected them, with heartbreaking stories told by members who have faced devastating wildfires, floods, tornadoes, and hurricanes.
Seattle Area Local Vice President, David Yao
The facilitators then discussed the Postal Service's own struggles with adapting to climate change. Members shared ideas on how APWU can play a role in making the Postal Service into an environmentally-conscious, sustainable agency.
"The meeting was great. People are very concerned about the disasters that are going on," said Executive Vice President Szeredy. "We need to help make sure that we change the systems that the Postal Service has and that we educate people, especially our members, and give them talking points on why these climate issues are so important and how they touch us."
Motor Vehicle Service and Retirees' General Sessions take place on Tuesday at All-Craft Conference
Motor Vehicle Service and Retirees' General
Sessions take place on Tuesday at All-Craft Conference
October 29, 2019
On Tuesday, October 29, the All-Craft Conference continued into its third day. Motor Vehicle Service Craft and Retirees both held their General Sessions.
"YOU HAVE GOT TO FIGHT FOR YOUR WORK."
During the MVS General Session, Director Michael O. Foster and Assistant Director Javier E. Piñeres gave detailed reports on current Step 4 grievances, as well as, National settlements and recent meetings with USPS Management. Additionally, they took time to honor former MVS Director Bob Pritchard, who recently passed, and longtime Boston Metro Area Local MVS Craft Director William "Bill" Weaver, who will be retiring after an illustrious 20-year career.
"I think we've had a very successful conference. The craft directors, stewards and members are showing a lot of interest," said Director Foster, "we are letting them know the critical juncture we're in with the demands that the Postal Service wants to get from the Motor Vehicle Craft, and PVS specifically, as far as interest arbitration."
During his address Director Foster emphasized the vital importance of safeguarding MVS work. "You have got to FIGHT for your work!" In fact, right before the ACC, the MVS Division was successful in fighting back against the USPS' attempts to shift bargaining unit work to supervisors. Just days prior Director Foster signed a national settlement protecting the duties of the Schedule Examiner position after the USPS began shifting the work to the supervisors and EAS employees.
RETIREES ARE MOBILIZING FOR 2020
The Retirees Conference also met today for its General Session.Delegates heard from Rich Fiesta, the Executive Director of the Alliance for Retired Americans. With so much at stake for retirees and working men and women, Fiesta highlighted the importance of mobilizing now for the 2020 elections. Retirement benefits and pensions are especially at risk.
Legislative & Political Director Judy Beard spoke on our legislative priorities, including the fight for fairer prescription prices and to protect Social Security.
President Dimondstein addressed the importance of the fight against postal privatization and thanked retirees for the activism.
Delegates were honored to witness the awarding of a charter to the APWU's newest retiree chapter, the Portland Area "City of Roses" Retirees Chapter.
In the afternoon, delegates heard from Will Attig of the Union Veterans Council, before closing with very important deliberations over the 2020 National Convention and resolutions impacting retiree members.
"We are very excited for this year's theme of officers, retirees and members working together," said Retiree Director Nancy Olumekor. "We have had a very good day; we have discussed issues that are important to retirees, as well as working members, and we will return home to our chapters ready to rejoin the fight."
All-Craft Conference Continues with Maintenance Craft and Support Services General Sessions
All-Craft Conference Continues with Maintenance
Craft and Support Services General Sessions
October 28, 2019
On Monday, October 28, the All-Craft Conference continued in Las Vegas, with the first day of meetings for each of the four crafts. The Clerk and Motor Vehicle Crafts held workshops, with the Maintenance Craft and Support Services Divisions meeting for their General Sessions.
In addition, the Retirees Conference held workshops and classes throughout the day.
The Support Services Division held its General Session before breaking up into workshops to address the individual issues and concerns of the Division's units. An issue of concern during the General Session and workshops was the Postal Service's attacks on postal wages during negotiations, despite the skills of Support Service members.
"We had a very good general session," said Director Steve Brooks. "The attendees were excited and did not hesitate to interact in the open forum on issues within their respective units."
At the Maintenance Division's General Session, Craft Director Idowu Balogun provided updates on the status of the craft since the previous All-Craft Conference in 2017. Director Balogun discussed the MS-1 settlement and the implementation of TL-6 handbook.
In addition, assistant Directors Jimmie Waldon and Terry Martinez both gave brief overviews of their work since the last Maintenance General Session at the 2018 National Convention. They reported on their March and August 2019 visits to Norman, OK to observe firsthand the conditions of the training facility, as well as, recent arbitrations and staffing issues.
"I'm proud of this great conference. It was the biggest we've seen in recent years, with over 400 in attendance, several local presidents, clerks and a lot of first time attendees. It's very refreshing," Director Balogun said. "The sessions were very informative and we learned a lot from each other."
The All-Craft Conference continues Tuesday, October 29 with Motor Vehicle Service Craft and Retirees General Sessions.
APWU members educate, engage, activate and build power at Legislative Political Conference
APWU members educate, engage, activate and build power at Legislative Political Conference
October 27, 2019
On Sunday, October 27, the All-Craft Conference continued as the APWU held its second Legislative & Political Conference. The focus was clear: educate, engage, activate and build power.
The day included multiple trainings on legislative action and political strategy. The conference concluded with a Legislative General Session and panel, Rising Up and Fighting for Our Values in the 2020 Election. The panel featured Will Attig of the Union Veterans Council, Sondra Cosgrove, League of Women Voters NV, Liz McElroy of the AFL-CIO and Jamal Watkins of the NAACP.
President Mark Dimondstein opened the General Session and highlighted the key issues at stake for postal workers in the 2020 election. He stressed that it is not enough to elect pro-labor, pro-public Postal Service candidates. We must build a strong movement to win lasting change and build power.
"We must enforce worker class protections and rebuild our power base," said Legislative Director Judy Beard. "To do these things, we must exchange knowledge and skills to fight for our shared values. Because when we fight for them we win."
The lesson of using collective power to win at the ballot box was a major theme throughout the day. "As much as we think money controls politics and that there's certain people behind closed doors, we are the constituents of the people representing us," said Cosgrove. "We have the power. We are the people who are calling the shots. We're the boss. And people need to approach voting exactly in that way."
McElroy touched on the need to look past elections as an end goal, and instead as a means to winning power for workers. "When we work to elect people to office at any level, it's not so they can achieve their goals, it's so that they can help us achieve ours," she said.
The conference left members with a true sense of how to build and win power. "We the people have the power to make a difference if we can learn to come together and use all of our resources," said Taylor Vinson, of the Amarillo (TX) Local. "Our unity and our voices are the most powerful thing working in our favor."
Young Members Meeting Opens All-Craft
Young Members Meeting Opens All-Craft
October 26, 2019
On Saturday, October 26, the Young Members Committee kicked off the 2019 All-Craft Conference with an exciting all-day training at the Bally's Las Vegas Hotel. The training featured speakers, training and open mic discussions of issues young members face.
Opening the training was Western Region Coordinator Omar Gonzalez, who presented a Brief History of the APWU, beginning with the establishment of the first post office in the United States in 1639. Secretary-Treasurer Liz Powell then greeted the attendees and offered words of encouragement for a successful conference.
President Dimondstein provided attendees with information on interest arbitration proceedings, and explained to the Young Members the importance of a good union contract for future generations. "In this contract fight, we're passing on the wages and benefits that our forefathers fought for before us," President Dimondstein said. "Our contract slogan is apt: Fighting Today for a Better Tomorrow. You're our today and you're our tomorrow," he told the Young Members.
Sabrina Larsen, Western Region Area Representative and Young Members Committee member, also provided a training on the US Mail: Not for Sale campaign, showing members how to get involved in keeping the Postal Service in public hands.
Following the training sessions, Retirees Department Director Nancy Olumekor introduced the five Regional Retiree Delegates, who bridged the gap between older and newer members and highlighted the importance of passing institutional knowledge between generations.
"The enthusiasm and cooperation between our young members and our seasoned members is something I'll never forget," said Young Member Ashley Sorenson, of the Salt Lake City Area Local.
The All-Craft Conference continues through Thursday, October 31. Sunday's events include the Legislative and Political conference.
Page Last Updated: Nov 15, 2019 (10:57:00)